AboutThatCar.com: 2018 Volvo V90, S90, XC60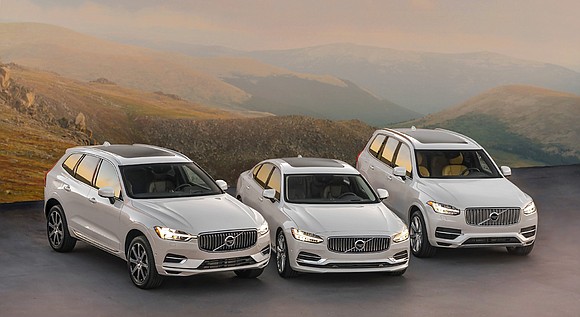 DENVER – When Volvo picked us up at the airport I and my riding partner climbed into the back seats of what turned out to be a 2018 XC90 Excellence. It was the most luxurious utility vehicle I had ever been in.
There were heated and cooled rear seats that massaged the tired traveler. What's more, they were power seats. I and my ride partner were separated by a high central tunnel with armrest, cupholders and a couple of crystal glasses.
The rear passenger seats were equipped with footrests, there was a chill compartment between the seat backs and each rear seat had a retractable tray (read desk) that I sat my iPad on with its keyboard and started typing notes. Each seat had what I thought was a DVD screen but upon taking a really good look it turned out to be its own iPad and dual set of USB jacks for each.
Most notable was the clear partition that separated the luggage and passenger compartments. I've never seen that in a utility vehicle. The panoramic roof showered the interior with natural light. Add a thumping 20-speaker sound system and I'd rather sit in the back seat of the Volvo XC90 Excellence. What's more, we were not here to test drive this vehicle.
We were here to test drive a trio of Volvos; the first two were the V90 and the S90, and the last was the XC60. The presentation started with the declaration that Volvo is redefining luxury and after experiencing the XC90 Excellence I could hardly disagree.
One of the things that came out of this particular program was that Volvo was undergoing a metamorphosis. In addition to new products, new engines, new chassis, a new philosophy, the goal of electrifying its entire product line and being on the cutting edge of putting self driving or autonomous cars on the road, the company is in the midst of a manufacturing watershed.
Coming on line are two assembly plants and an engine plant in China, Volvo already had assembly plants in Sweden and in Belgium and the company is building an assembly plant here in South Carolina which it recently announced it was going to expand. "We intend to build cars where we sell them," a spokesman told us.
For the first leg of the drive, we chose the 2018 Volvo V90 T6 Inscription with all-wheel-drive. We started from an altitude of 5,280 feet and climbed up to more than 8,000 feet. There was something about power to all four wheels that made us feel a bit more secure.
The only way to get this car is by order, either on Volvo's Web site or at a dealer. Volvo calls it the Concierge Program. Three is also the Overseas Delivery program, customers can pick the color, interior, trim and engine at their Volvo dealer and receive two paid airline tickets and hotel accommodations to pick up the car at Volvo's Torslanda, Sweden factory.
You get a factory tour; you can drive around Europe, take the V90 to a port of your choice and have it shipped home. The XC90 Excellence is also part of this program.
The V90 is a low volume car. Volvo only sold around 1,000 of them last year. Still, the full size station wagon is part of the company's heritage. Volvo has sold more than 6 million wagons worldwide since the first one it offered, the Duett, went on sale in 1953.
Volvo thinks this is a smarter, more price conscious way to market a low volume car. However, it will take three months to get the regular 2018 V90. But the V90 Cross Country, with its higher clearance and a bit more rugged attributes, can be purchased at Volvo dealerships.
The T5 Volvo V90 is powered by a 250 horsepower turbocharged engine that makes 258 pound-feet of torque. But they did not bring this engine for the program. And the V90 also comes in a sportier R-Design trim.
Our 2018 V90 Inscription had a 2.0-liter four-cylinder supercharged and turbocharged engine that made 316 horsepower and 295 pound-feet of torque. That may not sound like much oomph but at low or high speeds this engine will propel a Volvo rapidly. There were a couple of places that my driving partner got on the pedal and this engine responded by sending the V90 from about 60 mph to almost 95 mph in a few seconds.
I thought the seats, a Volvo strong suit, were awfully comfortable. This V90 was quiet, handling was great and the ride was smooth. And now that I think about it, sight lines were clear. Not once did I feel constricted because my view was obstructed by anything inside the car.
The base price was $57,950. But a $1,900 convenience package that included a surround view camera and a list of options like an air suspension, a premium audio system and 20-inch Inscription alloy wheels, and a heads up display pushed the price to $69,340 as tested.
A panoramic roof was standard as was a smart key, heated front seats, heated steering wheel, LED headlights, blind spot alert, lane keep assist, and emergency braking for pedestrians and cyclists.
We got into a 2018 S90 to continue the test drive to the lunch stop. The sedan has undergone a couple of significant changes for this model year. First it is 4.5 inches longer than last year's model.
The short-wheel-based version of the S90 will not be available in this country any longer. It will be available in Europe and of course in Sweden. Some think that Volvo is making the move in preparation for the launch of the S60 sedan next year. Time will tell. But that wasn't the second piece of news for this model.
The S90 now comes with the 400 horsepower plug-in electric hybrid system and that is what we test drove to lunch. All of the extra inches went into more leg room in the rear, the rear seats massaged passengers and the car had power side shades and of course a power rear shade.
Its panoramic roof was standard. What Volvo called a Twin Engine Plug-in Electric Hybrid 400 horsepower propulsion system, or T8, joins the 316 horsepower T6 super- and-turbo charged engine as well as the 250 horsepower turbocharged T5 engine offered on the S90.
There certainly was a big difference in 400 horsepower of the S90 versus the 316 horsepower of the V90. The S90 engine made 472 pound-feet of torque and because of the electric motor on the rear wheels power could be felt almost instantly. It could get to 60 mph from a standstill in 4.7 seconds.
On one of the few straightaways long enough to let the car loose, the engine lacked the roar of a V8 but not the speed. My driving partner and I agreed that it was the new sound of performance; still rhythmic but lighter in grunt.
The only thing we found to complain about during the initial test drive was the brakes. Because of the hybrid component they were regenerative and we thought they needed recalibration. It was nearly impossible to bring the car to a smooth stop. We both found ourselves stopping short more times than we'd like.
Still, it was a great driving car. Although it had the length of a full-size sedan it didn't have the weight, tipping the scales at 3,870 lbs. and that was with all-wheel-drive. The car was nimble, responded to driver input accurately and it was very maneuverable.
The S90 will also feature the updated Sensus Connect Touchscreen interface, Oncoming Lane Mitigation and what Volvo called blind spot information with steering assist as well as City Safety which will bring the vehicle to a complete emergency stop if a pedestrian or cyclist is detected in front of the car.
Our test vehicle had a base price of $63,650. But add option packages that included adaptive LED headlights, Thor's Hammer daytime running lights, a premium audio system, a color coordinated Nappa leather key fob, power cushion extension front seats, laminated side windows, surround view camera, back rest massaging front seats, heated and cooled rear seats, four zone climate controls, 19-inch 10 spoke alloy wheels and the price came to $82,140.
We drove what is arguably the most important Volvo to date, the 2018 XC60 back to the hotel from lunch. It replaces the old XC60 which accounted for almost one-third of Volo's global sales. What's more, this sport-utility introduces Volvo's 60 series of vehicles. There will no doubt be a S60 and a V60. All three engines are available in the XC60 midsize SUV. Volvo said 15 percent XC60 orders have been T8s.
The company also said that Steer Assist has been added to the City Safety emergency braking system. A new safety system called Oncoming Lane Mitigation uses steer assist to help mitigate head-on collisions, while Volvo's Blind Spot Indication System (BLIS) now uses Steer Assist to reduce the risk of lane-changing collisions. Pilot Assist, Volvo's advanced semi-autonomous driver assistance system, which takes care of steering, acceleration and braking on well-marked roads at up to 80 mph, is also available in the new XC60 as an option.
The XC60 had the new concaved Volvo grille but it was curved outward. Thor's Hammer DRL set off the new face of Volvo. It had a shorter front overhang, a longer wheelbase and a longer dash to axle length. The rear end was tucked in and the car felt like it was wrapped around us.
We had the 2018 XC60 T8 E-AWD Inscription. This crossover was smooth, quiet and handled with go-kart accuracy. When you're driving on narrow two-lane roads with plenty of cutbacks that are elevated too boot you want something that responds sharply to driver input. And the XC60 did.
It was comfortable and quiet but the drive route was programmed into the navigation system and it too needed to be recalibrated. We had to get used to when the navigation voice told us to turn, we had to turn then not at the intersection 200 feet down the road which is what it said and showed on the screen. We missed a couple of turns because that lesson had not sunk in.
The Inscription package of options included adaptive LED headlights, heated and cooled front seats as well as a heated steering wheel, an air suspension on all four corners, a premium audio system, backrest massage in the front seats and heated rear seats. The base price was $52,800; add on the long list of options and the price climbed to $71,590.
All three of these vehicles were first rate luxury cars. And as Volvo continues to redefine luxury, the company is also redefining itself.
Frank S. Washington is editor of AboutThatCar.com.