Moral Victory: Houston Texans vs. Tennessee Titans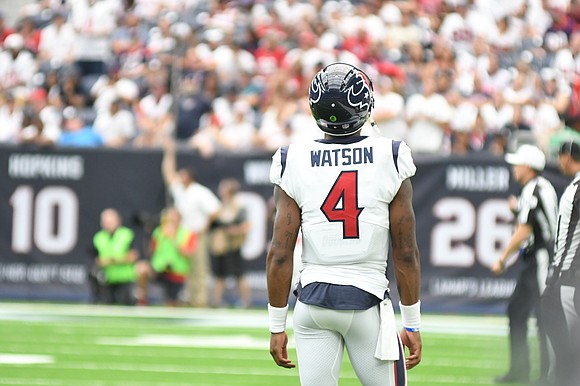 As a child playing competitive sports, my coaches would tell us before each game that there was no such thing as a moral victory. You either win or lose. Moral victories don't go down in the record books, they preached. So, every game, my teammates and I would never focus on what we did correctly. Never would we publicly talk about a great catch one of us had if we lost the game. Even when one of our players made a great tackle or even an interception, but the team lost the game. We would remain silent.
Well after watching the Houston Texans vs. New England Patriots my coaches owe me an apology; a very big one, too. The kind of apology that makes you take out a full-page ad in a newspaper. Houston came away from that game with a moral victory and a future leader.
The Texans lost a heartbreaker to the reigning Super Bowl champions NE Patriots last week. Future Hall of Famer and QB, who seems to get better as he gets older, Tom Brady, 40, drove 85 yards and connected with WR Brandin Cooks for the game-winning 25-yard touchdown pass to win the game by a score of 36-33; another notch in Brady's clutch performer belt. I am of the belief that Brady's bust is already in Canton (Home of the NFL Hall of Fame) in a pressurized glass case.
What did not go unnoticed was the maturity and leadership shown by Houston Texans first-round pick QB Deshaun Watson. He completed 22-33 passes for 301 yards, two touchdowns and two interceptions in defeat. Starting in only his second NFL professional game, he served notice to the Patriots that they may see him again in the playoffs. His performance led New England CB Malcom Butler to call him an up and coming Cam Newton. "He's a handful. He was running around, people were diving at him and missing. That's a great guy," said Butler.
Houston (1-2) will need everything from that moral victory as one of the hottest teams in the NFL comes to town. The Texans will square off against the AFC South Divisional leaders, Tennessee Titans (2-1), on Sunday. Houston is already down one game in the division after an opening season loss to division foe Jacksonville Jaguars. So, they cannot afford to lose another divisional game.
The Titans are coming off a very impressive victory against a strong and defensively stingy team in the Seattle Seahawks (33-27) and have a very star-studded offense led by QB Marcus Mariota. It will take a very concerted effort by J.J. Watt, JaDeveon Clowney, and the rest of the Texans defense to stop Mariota and his plethora of offensive weapons.
Houston QB Deshaun Watson will look to improve after having the best game of his early NFL career. "I am just a confident person regardless what others might say," said Watson. "At this level and with this game, you have to be confident. And if you don't have confidence in yourself, then you will get exposed or you will not be able to play to your potential."
Kick-Off is Sunday, October 1st at 12:00 PM (CST).