The Story Behind Houston Attorney Adrian Patterson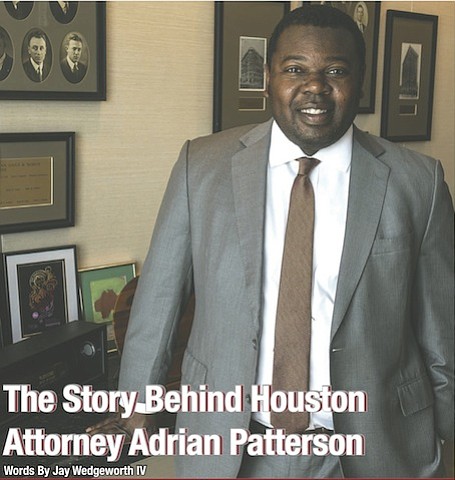 "I had a few friends who decided to go law school, and that gave me a little more confidence," Adrian said. "I thought, if they can do it, so can I."

He enrolled at Tulane Law School in New Orleans after returning from his one-year stint in Lon-don. While he pursued his degree, Adrian interned with the New York City office of Skadden Arps, the Houston office of Fulbright & Jaworksi, and the legal department at Exxon.
"I worked all the time and I loved it," Adrian said. "I would have worked the night shift if they let me."
After he graduated from Tulane, he moved back to Houston to practice law.
It was shortly after graduation from law school that Adrian met his future wife, Erin Rice. The two had attended Lanier Middle School together, but lost touch over the years. As luck would have it, a chance meeting brought them together again, and they eventually were married.
Erin serves on the board of HISD's Emerge Program and is an advisory board member of the Midtown Arts and Theater Center of Houston. Erin's father, William Rice, is a well-known Hous-ton attorney who has practiced for more than 40 years.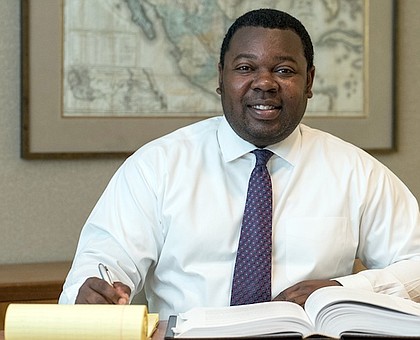 Adrian shares Erin's community-mindedness, having served as board chair of Project Row Houses, treasurer of the Houston Arts Alliance, and as a board member of the Buffalo Bayou Partnership. He currently serves on the Hermann Park Conservancy, and was very involved in the campaign to elect Mayor Sylvester Turner.
But the most important thing for both of them is family and Adrian and Erin are focused on raising their two sons—Adrian Jordan, 9, and Evan Patrick, 6.
"I enjoy anything that involves spending time with my family—whether coaching my kids' basketball and baseball teams or watching them play," Adrian said. "We also love to travel. We try to get away for a couple of weeks each summer. Over the past three years, we've made trips to Australia, Fiji, Italy, and California. It's one of our few indulgences as a family, and it gives us the opportunity to expose our boys to as many cultures as possible," he said.
The Patterson family also finds plenty of fun right here in town.
"We love Houston sports—we go to Astros games as a family, and make several Texans and Rockets games each year," Adrian said. "We also enjoy roaming the Rice University campus on weekends. The kids ride their bikes, we throw the football, or just take a walk." Adrian notes that his two boys find fun on Houston's METRO light rail, too. "They don't care where they go, they just like to ride," he said.
The Menil Collection is another family-favorite destination. "I was president of the Menil Contemporaries -- the museum's young patrons group -- for several years," Adrian said. "The arts are very important to us."
Food is a family affair as well. The Pattersons can be found most Fridays at El Tiempo restaurant. According to Adrian, it's become somewhat of a ritual.

Outside of work, community service, and spending time with his family, Adrian also manages to make time for reading.
"I read the Houston Chronicle and The Wall Street Journal every morning, and of course Hous-ton Style. I'll read anything by Michael Lewis (author of Liar's Poker), and am also a big fan of audio books. I'm currently listening to How Champions Think by Bob Rotella, and just finished Barbarians at the Gate by Bryan Burrough.
Houston is home for Adrian, and he sees the city's diversity and entrepreneurial spirit as two of its greatest strengths.
"I love how people will embrace you here," he said. "No one cares where you come from—the city just opens itself up to you. And in times of need – like we are experiencing after Hurricane Harvey – we pull together, help our neighbors rebuild our community and get back to work."
Adrian Patterson was named among The Best Lawyers in America, Public Finance 2013-2017; a Texas Rising Star by Texas Monthly (2012-2016); and Fellow of the Legal Council on Legal Diversity (2011-2012).