Tiger Woods' Masters return evokes 'Tiger mania' of old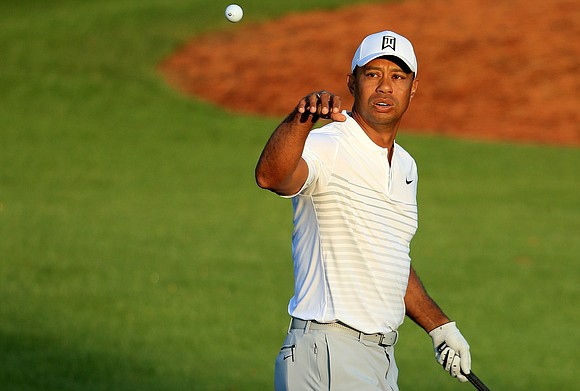 "Yes, I'm much tighter but for some reason it's come back. All of a sudden I had this pop in my body and my speed's back and my timing."
So far this year, the former world No.1 has recorded the fourth fastest club head speed on the PGA Tour. Speed equals distance. So much for an injured ageing has been.
"I got a second chance on life," Woods was quoted as saying on his website last week.
"I'm a walking miracle."
'Mystical'
That's exactly what golf thought of Woods when he made his splash, winning by a record 12 shots to become the youngest Masters champion at 21 years of age in 1997.
He added a second green jacket in 2001, the fourth leg of the famed "Tiger slam" for holding all four majors at once (although across two calendar years), and backed it up with a third in 2002 despite the "Tiger proofing" of the course to combat his power.
Woods' fourth green jacket in 2005 came via one of the most legendary shots in Masters lore -- a chip-in using the viscious slope of the 16th green to coax his ball down into the hole.
In his heyday, Woods seemed at times to exist on a different plane. One of his most remarkable -- even slightly mystical performances -- was when he winced his way to his last major victory -- the 2008 US Open -- on what was later diagnosed as a broken leg.
Then came the private life scandal that brought him crashing down.
Woods regained his world No.1 spot with a five-win season in 2013 before the back injury chapters began.
He acknowledges he is nudging towards the sunset of his career, but like other great sportsmen such as tennis legend Roger Federer, Woods refuses to go quietly.
Despite the case against him, Woods has forced his way back into the picture. The intangibles seem to outweigh the facts with the great ones.
Woods' re-emergence -- dubbed "superhuman" by PGA Tour commissioner Jay Monahan -- has evoked memories of the old days.
But this time he's different.
Greatest comeback?
The ultra-focused younger Woods was an icy figure. This Woods is approachable, more engaging -- he even played a practice round at Augusta with former arch rival Phil Mickelson. Time, age and life has mellowed the old gladiators.
"We're at the tail end of our careers, we both know that," Woods told his Augusta media conference.
"That was then and this is now."
And now is reporters asking Woods if victory this week would represent the greatest comeback in sports.
"I've got four rounds to play so let's just slow down," he laughed.
Until the tournament begins, at least, Woods' rivals are delighted he is back in the fray.
"A lot of people quickly forgot what he accomplished," said former world No. 1 Jason Day. "But now he's back and he looks like he was before, everyone's chomping at the bit to see what he can accomplish."
Woods' fellow American Rickie Fowler added: "Tiger's earned the attention. After Arnold [Palmer] and Jack [Nicklaus] set it up, Tiger changed the game and took it to a whole new level. He's been the biggest needle mover in the game and it's going to be tough for anyone to come close to that."
Woods described fellow golfer Ben Hogan's comeback after a head-on car crash with a bus in 1949 as one of sport's greatest comebacks.
Nicklaus might have a claim, too, after winning a sixth Masters at the age of 46.
But a fifth green jacket Sunday would put Woods right in the mix.