Chevrolet Tahoe: A Large SUV with a Larger Price Tag That's Worth It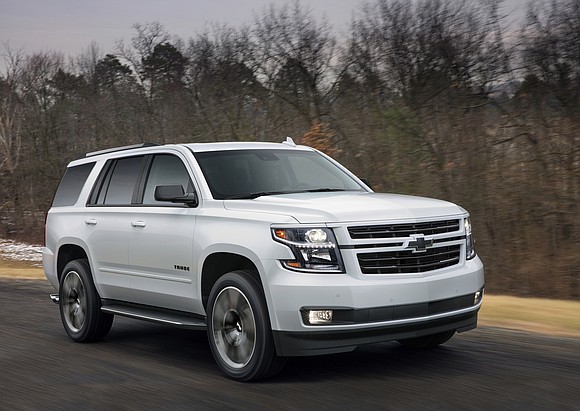 Water, along with fire, air, and earth, is one of the basic elements needed to sustain life. It is because of this significance to the human body and the connection between nature that the Native American culture holds water in such high regard. Water is sacred. Multiple meanings like life and death and good and bad health are associated with water depending on its depiction and clarity. One of the clearest and largest bodies of water straddling the California and Nevada line is Lake Tahoe. It is the largest alpine lake in North America, second deepest in the U.S., and is the sixth largest. Everything about Lake Tahoe is big. Its sheer size and majestic nature was inspiration enough for General Motors to name their full-size SUV Tahoe. And for one week I got the chance to test out the 2018 Chevrolet Tahoe 4WD Premier.
The Chevrolet Tahoe is America's best-selling large SUV as well as the most dependable. After my review, I totally understand why. From its spacious cabin to its efficient fuel economy, the Chevrolet Tahoe gives buyers more of what they need and want for the large SUV market.
One major need for drivers in the full-size SUV market is space. One can't get much bigger than the Chevrolet Tahoe, after all, what other vehicle do you know that has room for seven full-size adults. And might I add seven seats that are comfortable for those full-size adults. Although one might want to reserve the third row of seats for shorter vs. taller riders as it has a smaller leg space area versus the second row. Of course, having this much room for passengers means less space for things like luggage for long trips or other cargo. So if one happens to travel with fewer people the third row is a 60/40 split configuration and has power fold flat seat for added cargo space.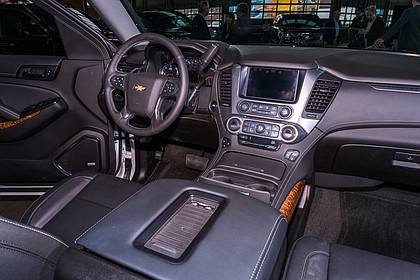 The driver and front passenger have both heated and ventilated seats, which is so needed in Houston's multi-season weather. Heat can also be felt for second row passengers as well as on the steering wheel and side mirrors. Controls are nicely laid out and easy to use. Customers can use the tip of their finger to control the 8-inch touchscreen with navigation. Inside the cabin, riders can be spoiled by the 10-speaker Bose audio system, Bluetooth technology, and for a little more green optional features like a Blu-ray DVD entertainment system with wireless charging can be added. Lucky for me, I had the wireless phone charger added on my test vehicle. This is something that I think needs to be standard on all vehicles moving forward. It really cuts down on the clutter of cords and chargers needed to power phones.
With the 2018 Chevrolet Tahoe, GM decided to add a new engine option that is only available on the Premier trim level. The upgraded 6.2-liter V8 engine paired with a new 10-speed automatic transmission is part of the RST performance package. Obtaining this engine will increase the horsepower to 420 to generate 460 lb. ft. of torque. The engine is pumped up so that means something has to give. That something is a less than efficient fuel economy. At the beginning of this article, I said the Tahoe had efficient fuel economy but I was speaking for base models with the 5.3-liter V6 engine that produces 355 horsepower and 383 lb. ft. of torque. EPA estimates are lowered to 14-mpg city and 22 mpg highway with the more powerful engine. Another whammy is the one to the wallet when filling this puppy up. No regular gas for this big boy. A premier vehicle needs premium gas for the 26-gallon capacity fuel tank.