Miguel, SiR Bring the Heat to Warehouse Live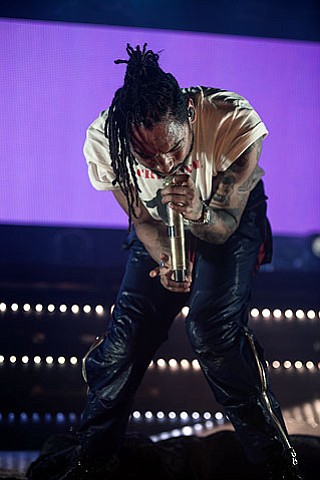 Miguel, at his core, is a rock star wrapped in an R&B singer's silhouette.
When he's on stage, as he was Tuesday night at Warehouse Live, all eyes were on him. There were strategic lighting placements and rigs to give off more of a show, but the "Adorn" singer couldn't help himself. There were wardrobe changes; he slid out of his leather jacket to sport different fashionable T-shirts and ultimately serenaded a sold-out crowd with a steady diet of sexually charged bedroom bangers and funk-R&B songs.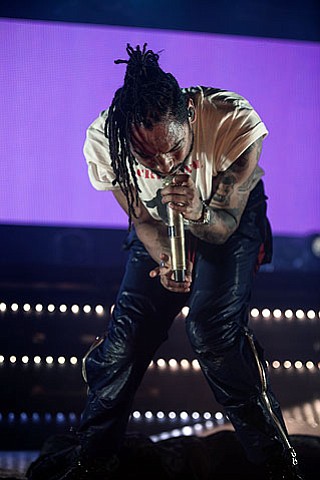 War & Leisure, Miguel's latest album is an album that is slightly political but brings the specter of union together. He still has to make sexy songs of course, but in spaces on Tuesday night, he made those watching him think. He wants to be outside of the box on stage. Moving beyond the typical "live your dreams" platitudes and words of affirmation most singers and artists tell their audiences, Miguel opted for something different. He wants you to zero in on your worldview and how you can make it better. How self-curation yields the most substantial impact on what happens to us in the long run.
As "Sky Walker," his current big single blared, a thought ran through the audience. He has confidently stated that this would probably be the last time he played in a venue like Warehouse Live, possibly opting for say Toyota Center or even Revention Music Center down the line. It fell right along with his words earlier in the night, ones about control. And even consent, which is probably a first at an R&B show. "Fellas... If she didn't give you permission tonight or any night, keep your hands to yourself!" he exclaimed before "Come Through And Chill."
Overall the night proved to be a success for everyone on the bill, including Inglewood, California singer SiR. The Top Dawg Entertainment singer, who will sadly be absent from TDE's upcoming The Championship tour made sure that he turned everything out during his brief yet excellent set. Many wanted to hear more from the young singer as "Oh Nah Nah" from his Her Pt II EP was a ready-made crowd favorite.
As the night winded down and the skies opened up with rain, fans rushed underneath the different spaces outside the venue to find cover. Maybe they even found a little love in the process.