Expand Your Palette During HBRW 2018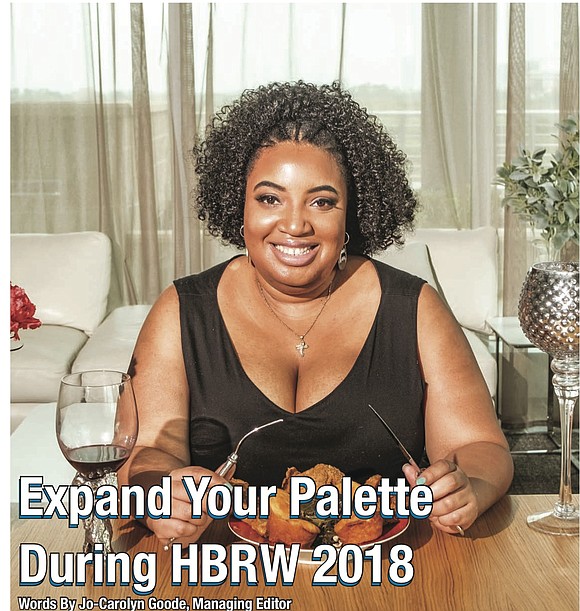 She is now in partnership with Dolce Ultra Lounge and Bistro and will showcase some of her unique culinary creations there during HBRW. Dolce is known for its elevated comfort food menu and Chef Janelle has kicked that up with her presence. During the two weeks of HBRW, three different dishes will be featured to wet the palette. One entrée is the King Surf and Turf. Chef Janelle describes it as a slice of Filet Mignon, King Crab Leg, and Grilled Shrimp over a bed of Mash Potatoes and Asparagus. The second dish is Blackened Catfish over Oxtails Dirty Rice with a Crab Meat Topping and Opelousas Sauce. And the third entrée had my mouth watering. Are you ready? Red Velvet Fried Chicken…have you heard of such a thing? Chef Janelle compliments this dish with traditional macaroni and cheese, sautéed collard greens, and cabbage along with a side of candied yams. After eating all that save room for dessert and try some Shipley's Donut Bread Pudding, Cognac Chocolate Brownie with Ice Cream, or Strawberry Moscato Cheesecake.
In addition to showcasing her chops at Dolce, foodies can sample some of Chef Janelle's food at the Nosh: Culinary Showcase during HBRW. She will be one of Houston's top chefs in attendance doing a live demonstration of one of her favorite summertime dishes. Focusing on African Diaspora, Chef Janelle will make a Caribbean Jerk BBQ Salmon Rib. I can't wait to try it.
It is creative minds like Chef Janelle that make HBRW so great. Step away from your usual meal and go excite your taste buds with something new. Chef Janelle suggests taking advantage of the server's suggestions and just enjoying yourself.
Houston Black Restaurant Week runs April 16-29, 2018. More details can be found at houbrw.com.
Houston Black Restaurant Week Participating Establishments
Featuring a variety of menus, including African, Caribbean, Cajun, and Vegetarian
Houston This Is It Soul Food
2712 Blodgett St
Houston, TX 77004
Reggae Hut Café
4814 Almeda Rd
Houston, TX 77004
Tropical Smoothie Café
19075 I-45 South, Suite 116 C
Shenandoah, TX
Mikki's Homestyle Cooking and Catering Soul Food Café
10500 W Bellfort Ave #100
Houston, TX 77031
Phil & Derek's Restaurant and Wine Bar
1701 Webster Street, E2
Houston, TX 77003
Esther's Cajun Café & Soul Food
5204 Yale St
Houston, TX 77091
Dolce Ultra Lounge and Bistro
18039 Farm to Market Rd 529 A
Cypress, TX 77433
Etta's Little Kitchen
5015 Almeda Rd
Houston, TX 77004
Lucille's
5512 La Branch St
Houston, TX 77004
The French Fry House
3221 Ennis St
Houston, TX 77004
Ray's Real Pit BBQ Shack
4529 Old Spanish Trl # C
Houston, TX 77021
Gatlin's BBQ
5015 Almeda Rd
Houston, TX 77004
Kitchen 713
4601 Washington Ave #130
Houston, TX 77007
Café Abuja Nigerian Kitchen
15015 Westheimer Rd #C
Houston, TX 77082
The Alley Kat Bar & Lounge
3718 Main St
Houston, TX 77002
Chicago Boogie's BBQ
1767 Texas Parkway
Missouri City 77489
Ogun's Art + Wine
920 Studemont St #150