Second Wind: Houston Rockets Prepare for the 2018 NBA Playoffs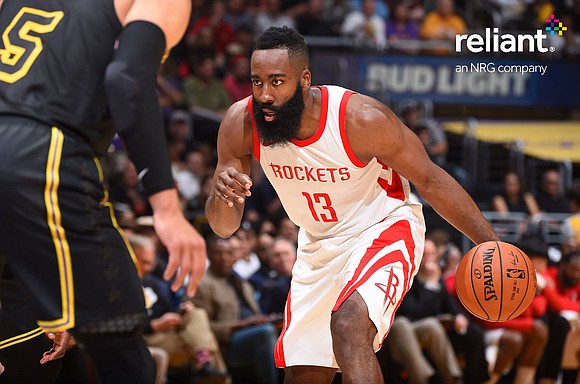 Ask any distance runner what sets them apart from any other athlete and they will give you the same answer over and over. "I knew I could complete the race when my second wind kicked in," most would reiterate. Second wind is defined as a new strength or energy to continue something that is an effort. With the NBA playoffs preparing to start on Saturday (April 14), the Houston Rockets will look for their second wind as they gear up for a run at the 2018 NBA Finals. You can tell that the Rockets are very focused on completing the task at hand as they continued to play their starters even though they wrapped up the number one seed and homecourt advantage throughout the playoffs weeks ago.
It was a very risky move as it may have cost them one of their key players in the playoffs. In a meaningless game against the Los Angeles Lakers, forward Luc Mbah a Moute dislocated the same shoulder that kept him out for a month earlier this season. Mbah a Moute has been critical to Houston's success this season with his defense and veteran presence. "The biggest thing from the game tonight is that we lost Luc. That is a big blow for us," said Rockets PG Chris Paul.
If regular season wins are any indication of what this team will do once the playoffs begin, then the city of Houston will be preparing for their second championship parade in less than a year (Houston Astros 2017 World Series Champs). The Rockets broke the franchise single season wins record of 58 wins that was previously held by the 1993-94 team who won Houston's first NBA Championship.
Head Coach Mike D'Antoni was asked how he celebrates the achievement of best record in the NBA compared to when he won multiple regular-season league championships as a player and coach in Europe. "I read something the other day [that said] sure James Harden should be the MVP, sure Chris Paul and James have been great, sure they set a franchise record [for wins by] about six games' worth, but they'll ultimately be judged by if they win a championship or not," D'Antoni said as he paused for a moment and then added. "Really? It doesn't diminish what these guys have done."
When James Harden was asked about the 2018 season and what it meant to him. His response did not echo the sentiments of his coach. "It won't mean anything if we aren't holding that trophy up at the end," said Harden. I will go on record by saying that if anyone is qualified to make that statement it is the frontrunner for the 2018 NBA MVP who is averaging 30.5 points, 8.7 assists, and 5.4 rebounds a game.
Houston will have their work cut out for them in the playoffs as the Western Conference is loaded with talent and the reigning World Champions (Golden State Warriors) are getting healthy at the right time. What sets the Rockets apart from any other team in the league is that they are just catching their second wind.
Inhale and exhale…let's go Rockets!