Noodle diplomacy: What do leaders eat after making history?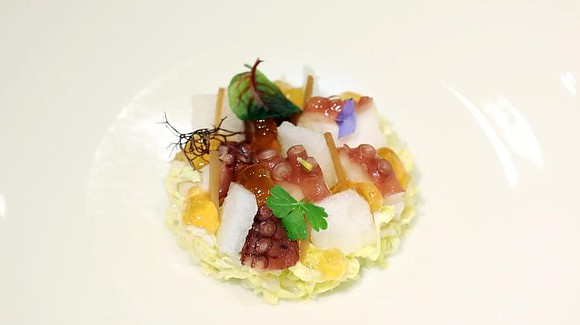 By Joshua Berlinger, Stella Ko and Jungeun Kim, CNN
(CNN) -- Pyongyang's cold noodles are the most famous on the Korean peninsula. They're so good, that the North is dispatching its top chef to the border, along with a noodle-making machine, to recreate it for dinner after Friday's historic inter-Korea summit.
South Korean President Moon Jae-in's administration announced Tuesday what would be on the menu when they join North Korean leader Kim Jong Un for dinner after the two meet for the first time Friday.
Moon's office released the menu along with detailed descriptions of each course, its source and inspiration. Nearly every dish has an extra dash of symbolism.
Guests will be served a dish from the hometown of the three South Korean presidents who have hosted or will host an inter-Korean summit. They'll eat food from the Korean peninsula's far north and south. There'll even be food sourced from the demilitarized zone that divides the two countries.
Here's a snippet of what they'll enjoy.
Pyongyang Naengmyun
Pyongyang Naengmyun is a dish of cold noodles beloved by many Koreans but perfected by the North Koreans. Kim Jong Un has agreed to bring the head cook from Okryugwan, a restaurant in the North Korean capital famous for the Naengmyun, to the summit to prepare the dish as a gesture of good will. A noodle-making machine will be installed so the diners get to enjoy freshly-made noodles.
Cold octopus salad
The octopus for this dish will come from the seaside town of Tongyeong, the home of the late classical musician and composer Yoon Yi-sang. Yoon was a prominent democracy activist during South Korea's periods of dictatorship.
Korean-style Swiss potato rosti
This appetizer is a Korean twist on a Swiss classic. It is meant as a nod to Kim Jong Un's younger days, when he studied abroad in Switzerland.
Pyeonsu
They'll also enjoy a dumpling course called Pyeonsu, with croaker and sea cucumber. The chefs will source the filling from Gageodo, former President Kim Dae-jung's hometown. Kim's administration organized the first in-person meeting between the leaders of North and South Korea in 2000.
Roast Dalgogi
Another seafood dish, this time a famous local food from the southern South Korean city of Busan, where Moon Jae-in spent his childhood.
Barbecued beef
The beef they'll enjoy hails from Seosan ranch in South Korea's western Chungnam province. The ranch is famous because it's where the founder of one of South Korea's most successful corporations, Hyundai, keeps his herds of cattle.
In the 1990s, the Hyundai founder drove hundreds of his cows across the demilitarized zone into North Korea as a donation to Pyongyang.
But Hyundai also has a tainted history when it comes to inter-Korean summits. The company was believed to have been used as a conduit to pay North Korea hundreds of millions of dollars just days before the 2000 summit between Kim Jong Il and Kim Dae-jung, polluting the latter's legacy.