Five Houstonians Named As Top 25 Finalists in H-E-B's 5th Quest for Texas Best Statewide Competition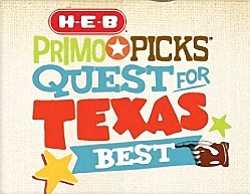 Bellville Meat Market – summer sausage
A summer is just not the same until you have a snack of summer sausage, cheese, and crackers. And if that is part of your summer routine, then your summer sausage needs to come from the guys at Bellville Meat Market. Thirty-seven years ago, Jerrod and Marcus Poffenberger's parents Daniel and Diann just wanted to make some extra income to help feed the family. Utilizing his experience as a meat expert from working in their town's grocery stores, Daniel developed his own brand pecan smoked sausage. The couple's sons took over the business a few years ago to grow the brand. Now the company sells everything from and a line of jerkys, dry sausages, smoked sausages, bacon wrap tenderloin, summer sausages, and more. Using only the leanest of meats, their summer sausage comes in four flavors – Peppercorn, Green Onion, Jalapeno Cheese, and my personal favorite, Sweet Chipotle. At first, I thought I would hate Sweet Chipotle since in my head sausage is not suppose to be sweet but the intense flavor won me over.
Big Little Fudge - fudge
The Big Little Fudge company is a small business packing plenty of flavor. Building off of Robin Strickland's love affair with fudge, she and Kevin Graham started the company in 2009, with their own brand of fudge loading it with pecans, coconuts, cherries, and cranberries. Strickland wanted to present fudge in an unusual way so she decided to package it like a candy bar with the tagline "Live a little. Fudge a lot." The big flavor in a little package took off and before long, the childhood friends were doing so well as candy makers they left their corporate oil and gas jobs to run their sweet business full time. They have a line of nine flavors with wacky, fun names for each of them. I adore the Big Wally, which is a classic take on traditional fudge with pecans. Their fudge is soft and moist and not hard and dry like some I have had. Pumpkin walnut, maple walnut, and salty blonde flavors will be introduced this fall.
Chef Rey Inc. - cheesecake
Cheesecake is served everywhere and everyone thinks their recipe is the best. But I ask you, have you tried Chef Rey's cheesecake? Because if you haven't then you don't know good cheesecake. Reynold Darthard aka Chef Rey has been making cheesecake for 15 years after leaving his corporate to go study at culinary school at 37 years old. Inspired by the loving hands of his grandmother and mother, he leaned on history to craft his own brand of cheesecake that is smooth its like velvet. Coming in strawberry, raspberry, chocolate swirl, and sweet potato, Chef Rey offers the desserts as a regular 9-inch pie, mini individual pies, and trio of mini pies (for those who can't just have one flavor). Unlike most who bake cheesecake in a water bath, Chef Rey blind bakes his cheesecake blends in his sour cream (that last part is one of his secrets). The biggest compliment for him is turning someone who hates cheesecake into a lover of one after trying his version. Yes, I have been converted.