Abdul El-Sayed hopes to keep progressive wave rolling in Michigan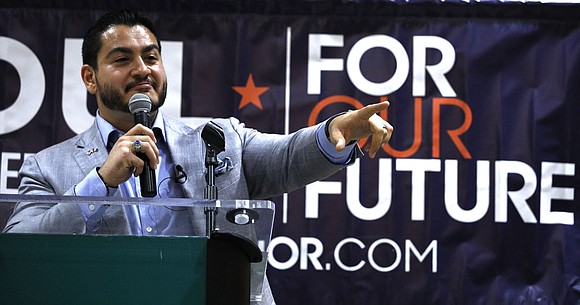 By Gregory Krieg, CNN
(CNN) -- The odds are against him. History, too.
But if Abdul El-Sayed, in his quest to become the country's first Muslim governor, can upset frontrunner Gretchen Whitmer in Michigan's Democratic primary on Tuesday, he will do more than earn his shot at carving out a piece of political history: He will upend the conventional wisdom within the party establishment that says progressive left politics are a loser with Midwestern voters.
Michigan Democrats' race to replace the term-limited Republican Gov. Rick Snyder, one of the few ideologically and personally combative of the season, is a three-way fight featuring former state Senate minority leader Whitmer, the young leftist firebrand El-Sayed and millionaire self-funder Shri Thanedar.
El-Sayed, a 33-year-old former Detroit health commissioner championed by Sen. Bernie Sanders and Alexandria Ocasio-Cortez, has emerged as a favorite of the rising progressive insurgency with his detailed pitches for statewide "Medicare for all," public internet and tuition-free college.
But it is Whitmer who enjoys the support of leading Michigan Democratic establishment figures, along with the state's biggest unions and, as of last week, New York Sen. Kirsten Gillibrand. A liberal in good standing from her time in the state legislature, Whitmer has pitched herself as the safer hands in this contest, calling El-Sayed's single-payer plan "not realistic in Michigan at this moment" while touting her work to help secure a Medicaid expansion deal with Republicans back in 2013.
A contentious primary
Their most recent and heated tussle has centered on the question of corporate PAC money -- Whitmer accepts it, El-Sayed does not.
Over the past few days, he has accused her -- not for the first time -- of being bought off by the state's largest insurer, while she is charging that his campaign has fallen short of its own standards.
The debate turned nasty last Thursday, when El-Sayed in a tweet linking to a Crain's Detroit Business report on the more than $500,000 in "untraceable" money given to a political organization that has run ads supporting Whitmer, compared the practice to "money laundering." That language -- deleted and amended to "a legal form of money laundering," which has also since been erased -- quickly escalated what was already shaping up to be a tense run-in.
Early Friday, Whitmer's campaign zeroed in on filings that showed a PAC run by state Rep. Abdullah Hammoud gave more than $60,000 to El-Sayed's campaign shortly after receiving a cash infusion from donors who had already given it the individual maximum.
A spokeswoman responded to the news by accusing El-Sayed of "running a potentially illegal donor funneling scheme," and suggested he had "stooped to the level of Donald Trump by peddling conspiracy theories and making defamatory attacks on Twitter." (There is no clear evidence that El-Sayed, the donors or Hammoud's PAC violated campaign finance rules.)
El-Sayed sought to take down the temperature later in the day, tweeting that he admired Whitmer's work and pledged that the two "will walk in lockstep, whoever wins, to a blue wave in November."