Kennedy Edwards Is First African American Miss Texas Teen USA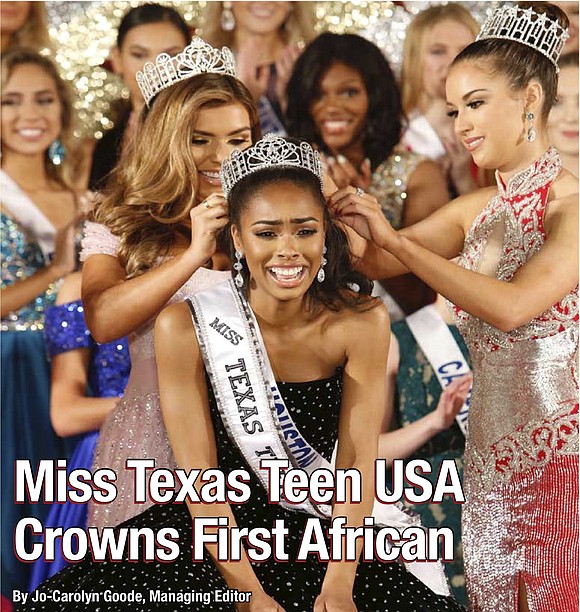 In speaking with eighteen-year-old Kennedy Edwards one thing is definitely clear. Her goal in whatever she does is to strive for excellence and nothing short thereof. In every undertaking, she puts her all in to give the best performance that she can produce at that given time and at that precise moment. She had that laser mindset focus when she entered the 2019 Miss Texas Teen Pageant produced by the Crystal Group. And all of her focus, time, and dedication ultimately paid off as she was crowned Miss Texas Teen USA 2019. In addition to winning the most prestigious beauty competition, she made history in the process as the first African American female teen to win the coveted title in the pageant's 35-year history.
Just as important as her accomplishment today is her road to how she got to this point. Another history maker, Hannah Johannes, first introduced the Houston native to the idea of pageantry. Johannes was the first ever African American Miss Houston Teen USA. During a chance meeting at the wedding of Edwards' cousin, Johannes talked about her own journey in pageantry with all the fun and life-changing opportunities she had competing and reigning on the local and state pageant circuit in the Miss USA system. Although Edwards thought everything Johannes spoke of was wonderful, it fell on deaf ears. "I was so standoffish to the idea because it was something that never crossed my mind before," Edwards recalled. Her discernment did not discourage Johannes. She kept prodding at her potential pageant mentee until Edwards gave up to give something new a try. Surprise, surprise Edwards not only liked it but she was a natural at it. Edwards said, "Without her (Johannes) I would not be where I am today."
Johannes is only the first leg of Edwards' success story. The next person is a household name already, Crystle Stewart-Sebrechts. Her name may be familiar to you since she was first African American Miss Texas USA who went on to be crowned Miss USA 2008. (I know you are thinking what about Chelsi Smith. She is credited as the first biracial Miss Texas USA.) Or you may know Stewart from her acting career starring in Tyler Perry's television sitcom Better or Worse and the film Acrimony. Stewart has added two additional careers to her growing resume as the owner of a charm school, the MISS Academy, that she co-founded with her husband model/actor Max Sebrechts and as the new director of the Miss Houston USA Pageant. The local pageant is an official preliminary competition of the Miss Texas USA Pageant and Edwards' first stop towards the Miss Texas Teen USA title.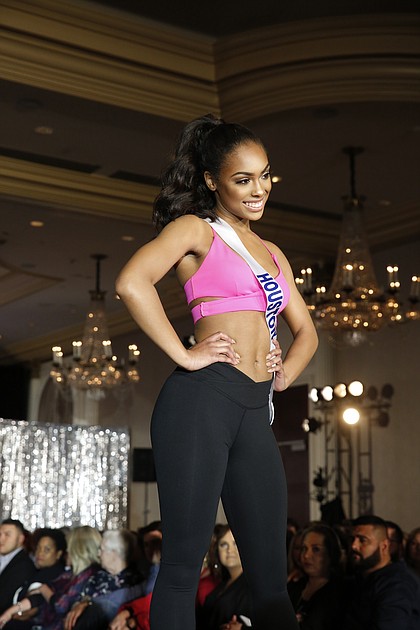 Like Edwards, anything Stewart does, she does first class and top rate. She expected all of her contestants in pageantry to approach the competition in the same manner. For months all teen and miss contestants went through intensive training in walking, interview, hair, makeup, and wardrobe prep to ensure that all were on a level playing field to give their best performance regardless if they had pageant experience or not. This is a practice not usually done in pageants but one that first-time pageant competitor Edwards happily embraced.
Edwards recalled all the things Stewart had done for her personally, fellow novice titleholder Miss Houston USA 2018 Lesha Wincher, and the other contestants. "She guided me so much." Edwards continued, "I give her all the credit to become the girl who was on the stage. She refined me and helped me find my voice. She is so gracious and humble that you forget that she is a celebrity. She put so much focus on me to make sure I was comfortable and prepared." Stewart has easily become a role model that Edwards looks up too.
And the admiration between the two is shared. Stewart said of Edwards, "With Kennedy's most recent win as the new Miss Texas Teen USA, she has inspired so many young women to pursue their dreams and aspirations with confidence. Kennedy graduated third in her class, she is an aspiring lawyer, and an active ambassador for voter registration. Her intelligence matches her beauty and both are of high standards."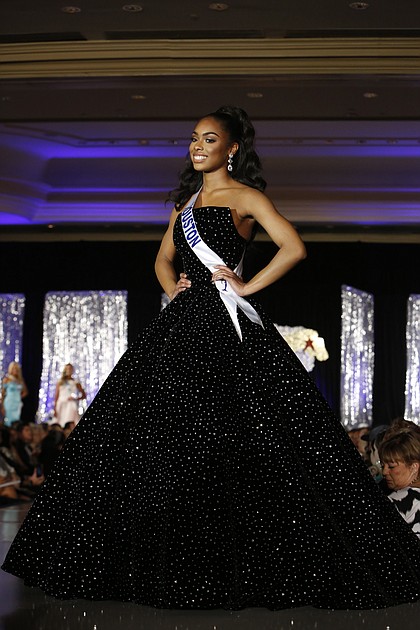 With the local title under her belt, Edwards again underwent more intense training for the state pageant while simultaneous tackling her responsibilities as a freshman political science major at Howard University. The future civil or corporate attorney made bi-weekly trips to Houston for training, wardrobe fittings and other pageant prep. She sacrificed college activities, some classes, and her weekends. But she wouldn't trade one thing she did. "Although it was a sacrifice it wasn't something absolutely crazy for me to do. It paid off in the end." Edwards will continue to make more sacrifices like the above as she now has to prepare to compete for Miss Teen USA this coming summer 2019.
Entering in the local pageant Edwards simply wanted to have fun first. Her competitive nature kicked into full drive once on stage. With the state, pageant fun took second to her wanting to make history. "I knew an African American had to win at some point but I wanted to be the first one. I knew I had to excel at everything for judges to make that no doubt decision. It had to be me. So I worked extra hard in every single area so that it could be clear and that I could perform to the best of my ability." A strategy that ultimately paid off for the newly crowned state queen that she feels extremely blessed and grateful for.
In this new role, Edwards has the responsibility of representing the teens throughout the state, pageant sponsors, and being a champion for charitable causes among other things. Her constant goal is to be the best representative possible. "When people look back on it I want them to look at my reign as something positive. I want to do everything I can do to touch every single person that I can in the process especially young girls and boys who come from the same place I come from and who look like me and who have the same aspirations as me." Edwards went on to say she doesn't want to give anyone the opportunity to anything negative and that she wants to excel so everyone can see that the title is about more than the color of her skin.
"You can walk on the stage; you can be dressed in thousands of dollars; but at the end of the day, it goes beyond what type of clothes you are wearing and how you walk but who you are as a person. I think my confidence, especially in the interview is what set me aside." She added, "I think just focusing on being as real as possible and being relatable and communicating my own intelligence and devotion to different things is probably what set me aside."
Her favorite scripture and life's motto is based off Psalms 46:5. It a reminder for her to just get out of her own way and to abide by God's rules and trust only in Him then all things will work out in the end. "It is not my battle to have but His," commented Edwards.
At such a young age, Edwards seems to have found the winning formula for success. A formula that is devoted faith + radar focus + persistent patience and perseverance + unselfish time and commitment + a supportive circle = achievement, accomplishments, and success. As she continues to live life and envision new dreams for herself she shall carry this formula close to her chest. May it continue to serve as a stable foundation for a life that is on track to continue to make fetes yet to be seen.
If pageantry interests you, the 2019 Miss Houston USA Pageant is hosting an open call for potential contestants on Saturday, Dec. 15 at 2 p.m. at MISS Academy, 1111 Uptown Park Blvd Ste. 12. The 2019 Miss Houston Pageant will be held on April 19-20 at 8 p.m. at the Hilton Post Oak Hotel. For more information, visit www.Miss HoustonPageant.com or www.MissTexasUSA.com.