5th Annual Quest for Texas Best Begins!
H-E-B Primo Picks Quest for Texas Best Issues Statewide Call for Entries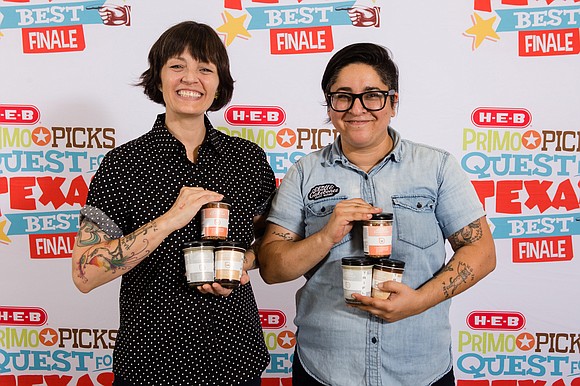 HOUSTON – H-E-B continues its search for the finest foods and beverages in the Lone Star State with the 5th Annual H-E-B Primo Picks Quest for Texas Best contest.
On Sunday, Feb. 4, H-E-B will start accepting submissions for the competition that brought Bagel Dots, Huerta's Texas Gumbo, the Texas Pie Dough Puck, The Jank BBQ Sauce, Slaton Bakery's Homemade Vanilla Wafers, Vela Farm's Texas Sweet Tea Jelly, and more than 240 other unique products to H-E-B shelves. Since launching the contest in 2014, H-E-B has reviewed more than 2,000 samples of the most creative and mouthwatering Texas-made food and beverages.
Interested suppliers / manufacturers are encouraged to submit details about their products at heb.com/quest. Entries will be accepted from Sunday, Feb. 4 through Sunday, Mar. 18. Participants will compete for cash prizes and the opportunity to have their products featured on H-E-B shelves across the state.
To kick off the fifth annual competition, Texas country music star Cowboy Troy rhymes his way through this year's travel-filled H-E-B Super Bowl commercial, taking viewers from Luckenbach to the Riverwalk in search of Texas treasures. In San Antonio, the 30-second commercial will broadcast between the game's third and fourth quarters and the minute-long version will air during halftime. In other key Texas markets, the commercial will air between the game's third and fourth quarters. The commercial will broadcast throughout February.
H-E-B's Business Development Managers will determine the top 25 applicants, who will present their products before a panel of judges selected by H-E-B on August 9 and 10, 2018 at the Central Texas Food Bank in Austin. The panel of judges will determine the top four winning products.
H-E-B will award the Grand Prize winner $25,000, the title of "Texas Best" Primo Pick and placement on store shelves; the first-place winner $20,000; the second-place winner $15,000; and the third-place winner $10,000. To celebrate the fifth anniversary, in addition to the $25,000, this year's grand prize winner will also receive a brand-new Toyota Tundra.
Eligible products must not be available in any other large chain or retailer and the vendors must be willing to sell exclusively to H-E-B. Additionally, Texas-based suppliers must also create, produce or co-pack the products in Texas.

Last year, Austin's Sascha Biesi and Yauss Berenji took home the Grand Prize title and $25,000 for their Skull & Cakebones Mocha Marmalade. Houston's WarPig BBQ F.U.B.A.R (for use on butts and ribs) tied for second place each taking home a $20,000 prize and has landed on store shelves to great acclaim. Also on the shelves from 2017 Top 25 Finalists are Just Made Juices by Norka and Walter Nimocks of the Woodlands; Cheezinos Brazilian-style cheese rolls created by Sugar Land's Anh Kajita; and Houston's Nicki Praiswater and Mark Crippen's Lone Star Bee Company undeniably sweet and uniquely infused honeys.
From Feb. 7 – Mar. 2, H-E-B Sourcing and Supplier Diversity leaders will visit local chambers of commerce, small business development organizations and business advocacy groups to raise awareness about the product search and contest, and advise potential entrants about product development and best practices for submitting their product into the competition. Cities include: Austin, Beaumont, Corpus Christi, Dallas, Del Rio, Eagle Pass, El Paso, Houston, Killeen, Laredo, McAllen, San Antonio and Waco. To register, please visit heb.com/quest.