Calling All Local Food and Beverage Innovators for 2018 H-E-B Primo Picks Quest for Texas Best
H-E-B leaders visit HOUSTON to offer guidance on submitting unique products in statewide competition
H-E-B Primo Picks Quest for Texas Best is visiting HOUSTON on Tuesday, February 13 and Tuesday, February 27 for to share insight with local food and beverage creators interested in participating in the 2018 statewide competition. Potential entrants are invited to meet with H-E-B leaders who will advise them on product development and best practices for submitting their creation into the competition. Space is limited. To register, please click here or here.
H-E-B Primo Picks Quest for Texas Best offers Texas-based food and beverage manufacturers the opportunity to showcase their uniquely Texan products, and a chance to win cash prizes and coveted placement in select H-E-B stores throughout the state. Entrants may submit their product details online at heb.com/quest from Feb. 4 - Mar. 18, 2018.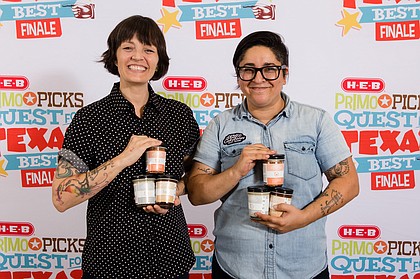 To kick off the fifth annual competition, Texas country music star Cowboy Troy rhymed his way through this year's travel-filled H-E-B Super Bowl commercial, taking viewers from Luckenbach to the Riverwalk in search of Texas treasures. In San Antonio, the 30-second commercial aired between the game's third and fourth quarters, and the minute-long version aired at halftime. In other key Texas markets, the commercial was broadcast between the game's third and fourth quarters. The commercial will run throughout February.
Since launching in 2014, the Quest for Texas Best has yielded more than 240 new products on H-E-B store shelves across Texas. Last year, Austin's, Sascha Biesi and Yauss Berenji took home the Grand Prize title and $25,000 for their Skull & Cakebones Mocha Marmalade.
To learn more about the competition or for a complete listing of cities and dates H-E-B leaders will visit throughout February and March, please visit heb.com/quest.
WHEN: Tuesday, February 13; 9:30 a.m.
H-E-B Training Center
4301 Windfern Road, Houston, TX 77041
Tuesday, February 27; 10:00 a.m.
University of Houston Bauer College Small Business Development Center
2302 Fannin, Suite 200, Houston, TX 77002
H-E-B, with sales of more than $24.6 billion, operates 390 stores in Texas and Mexico. Known for its innovation and community service, H-E-B celebrated its 110th anniversary in 2015. Recognized for its fresh food, quality products, convenient services, and a commitment to environmental responsibility and sustainability, H-E-B strives to provide the best customer experience at everyday low prices. Based in San Antonio, H-E-B employs over 106,000 Partners in Texas and Mexico and serves millions of customers in more than 300 communities. For more information, visit heb.com.