"Philly Special" Philadelphia Eagles Pulls Upset in Super Bowl LII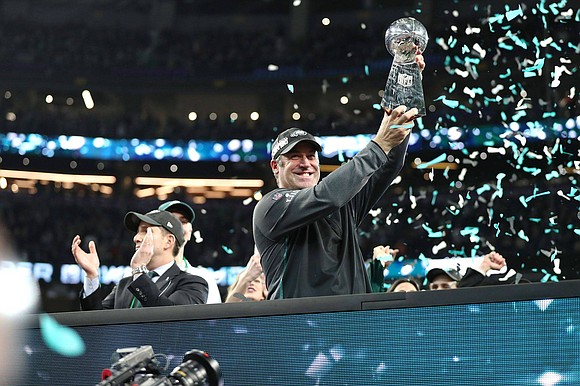 Since 1976, the city of Philadelphia has been associated with boxer Rocky Balboa. He is the character that was created by actor Sylvester Stallone that depicts every person that has overcome adversity and obstacles in their life to achieve success.
This past Sunday, the Philadelphia Eagles channeled their inner Rocky to defeat the New England Patriots in Super Bowl LII 41-33. "I ain't never been a part of nothing like this. I ain't seen nothing like this," said Eagles Safety Malcolm Jenkins in the locker room after the game. That win marks the first Super Bowl victory in franchise history and brings the Eagles season full circle. They went 7-9 last year and finished dead last in the NFC East.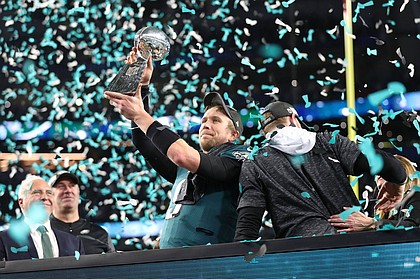 Like they have been doing all season, the Eagles relied upon the knowledge and wisdom of their second year head coach, Doug Pederson. His great offensive mind was needed when Philly found themselves in two tough fourth down situations that could have changed the game. He believed in his backup quarterback Nick Foles when they lost their starter Carson Wentz early on in the season. Foles, was brilliant in the game, which led him to win MVP honors, but it was his crucial fourth and goal play with one minute left in the first half that set the tone for the rest of the game.
After being stopped on third down, Foles and Pederson decided to go with a trick play on fourth down called the "Philly Special." A play they had designed earlier in the week to use for an occasion just like this. It didn't take much for the Eagles QB to convince his coach. Once he said the play, Pederson paused and then responded, "Yeah, let's do it. Let's do it."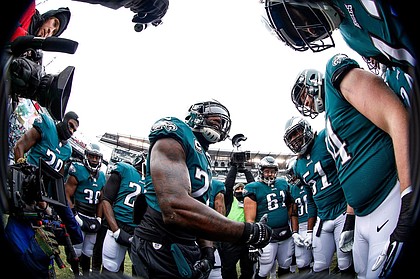 With the quarterback standing near the right tackle giving fake signal calls, the ball was directly snapped to running back Corey Clement, who then pitched the ball to back up tight end Trey Burton, who found a wide open Foles in the end zone for the score. It takes a lot to catch a Bill Belichick coached team off guard, but that's exactly what happened.
"Obviously, we didn't do a good enough job coaching, missed a lot of opportunities offensively in the first half, and didn't play good enough defense," said the Patriots head coach who lost for only the third time in eight Super Bowl appearances.
New England didn't lose the game by lack of effort by the 2017 NFL Regular Season MVP Tom Brady (505 yards passing and three touchdowns), but his turnover late in the fourth quarter allowed the Eagles to score the deciding points on a field goal and win the game.
"Losing sucks. If you want to be world champs, you have to play in this game," said Brady speaking to a room full of reporters.
As the confetti fell from the roof, the Eagles players watched in amazement while the Lombardi Trophy made its way to the presentation stage. They all waited to hear that one sentence that had eluded them for 50 years and two previous Super Bowl appearances. "The Philadelphia Eagles are World Champions!"