Black History Highlight: Jacqui Sutton presents "Un-Cross Talk", an Immersive twist of Jazz and Bluegrass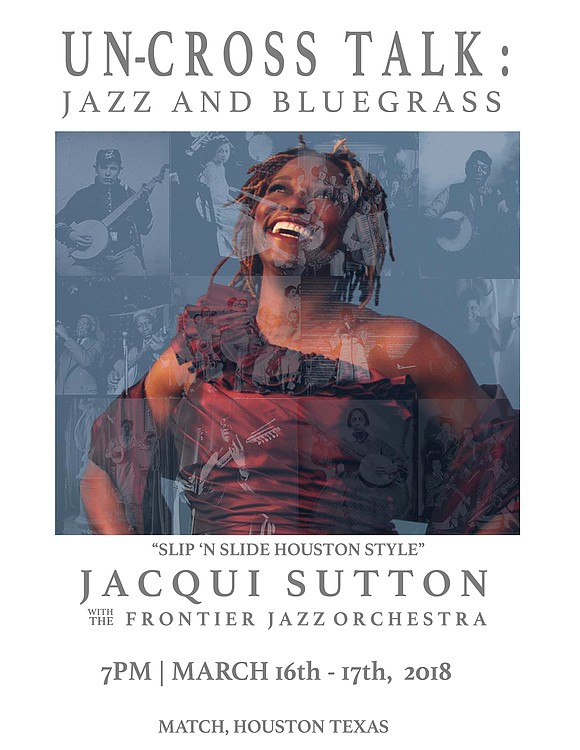 We first introduced Jacqui Sutton, front woman of the Frontier Jazz Orchestra, back in 2013 discussing her dynamic Spanish/English rendition of "Nature Boy" (first recorded by legendary Jazz singer, Nat King Cole). Now Songwriter/Composer/Singer Jacqui Sutton is back with "Un-Crossed Talk," which is what she feels brings commonality between Urban and Rural America. Third Ward is at the forefront of the songstress musical influence to the immersive sounds of the Jazz and Bluegrass blends. The songstress metaphorically describes Frontier Jazz as, "Imagine if Billie Holiday, Dolly Parton and Aaron Copland jammed on night. That's the sound of Frontier Jazz."
Toy Blue Typewriter Productions presents "Un-Cross Talk" on March 16-17, 2018, at MATCH in Midtown Houston. "Un-Cross Talk" marks the premiere of original Jazz/Bluegrass compositions in a multi-media concert. Jacqui has made a name for herself in Houston as the creator of her own music genre—"Frontier Jazz," where Jazz meets the American frontier. It honors the uniqueness of each musical style of Jazz and Bluegrass as distinctly American, and puts them in conversation musically. Jacqui is working with nine of Houston's finest jazz and classical musicians to create this experience: Henry Darragh (piano/trombone); Paul Chester (banjo/guitars); Anthony Sapp (bass); Max Dyer & Patrick Moore (cello); Dennis Dotson and Eddie Lewis (trumpet/flugelhorn); Ilya Janos (percussion); and Joel Fulgham (drums).
"Un-Cross Talk" is funded in part by the Houston Arts Alliance, and marks Jacqui's debut as a composer and concert producer. Seventy tickets will be 100% subsidized for those who cannot afford the entry fee.
There will be a preview on Tuesday, February 13, 2018, at 7PM for "Un-Cross Talk" at Mixed Emotions Fine Art and Print (95 Tuam St, Houston, TX 77006), and it will be FREE to the public. The second and final preview will showcase just a few songs from the upcoming concert to wet your appetite for the main event in March. Attendees will have the opportunity to be apart of an intimate Q&A incubator with Jacqui and the orchestra discussing Frontier Jazz and the genesis of the "Un-Cross Talk" concert.
Houston Style Magazine will be present at one of the city's newest performance and visual arts venue, MATCH, and we can't wait to give you a recap of "Un-Crossed Talk".
Interested in grabbing a ticket? Click here. While generous, the Houston Arts Alliance grant covers about a third of what's required to mount this concert properly. Let's keep it going!
Support the songstress project by clicking, here.
Follow Jacqui Sutton on Facebook and Youtube.
Visit her website, here.