Exceeding Carnival Guests' Expectation with a Listening Ear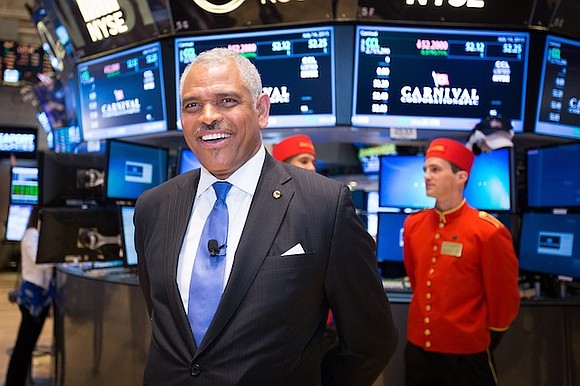 As a child, my mother often said the phrase, "You have two ears and one mouth because you need to listen more than you speak." Well, Arnold Donald, Carnival Corporation's CEO, must have heard the same thing as a kid since he counts having a listening ear as one of the keys to his success.
"It's the importance of listening. It seems simple, but it is not always as easy as it sounds." He continued, "You have to embrace the role of being a good listener and you have to learn how to listen. I believe everyone you encounter has something to offer and something you can learn from, but you have to be patient, ask the right questions and sometimes extract the most important information. Even when you think you know the answer, you should listen first." Giving examples of how he always listens to customers, guests, employees, partners, suppliers, " Donald said, "If you are sincere in your listening, you will be rewarded with insights that can lead to short- and long-term success."
In celebration of Black History Month, we salute Arnold Donald as we learn more about his rise to the top.
The New Orleans born native grew up poor in the Ninth Ward where murders, stabbings, and shootings were normal occurrences. He grew up during a time when America was changing. African Americans, who were thought of as inferior, were finding their voice to challenge the unjust in the world. He knew his circumstances didn't dictate his outcome in life.
Never having been exposed to the field of business, he was determined to become a CEO of a Fortune 500 company. To obtain his goal, he knew he needed a solid education. He earned his bachelor's degree in economics from Carleton College in 1976, another bachelor's degree in mechanical engineering from Washington University from St. Louis in 1977, and an MBA from the University Of Chicago Graduate School Of Business in 1980.
Next, he gained experience. That came with his job at Monsanto, an agricultural company. Rising through the ranks over the course of 23 years, he would hold such positions as president of their nutrition and consumer sectors and senior vice president of the parent company. He left that company in 2013 to become the CEO of the Carnival Corporation. He did it! He had achieved his goal.
"I think everything you experience in life culminates into who you are today. From my youth to my education and throughout my career, all of those different events and influences have had an impact on how I view the world, run a business and manage people to help maximize success for everyone involved," Donald said.
Among those who highly influenced him were those who were his first role models, his parents, Warren and Hilda Donald. "They instilled in us early on that we could overcome adversity and accomplish anything we wanted in life." Values, like getting a good education, working hard, and having compassion, are some of the nuggets that are inscribed in Donald's brain because of the pair. "Their influences have clearly shaped my life and career. That is something I'm truly grateful for."