Let's Play Ball: Houston Astros Are Prepared for the 2018 Season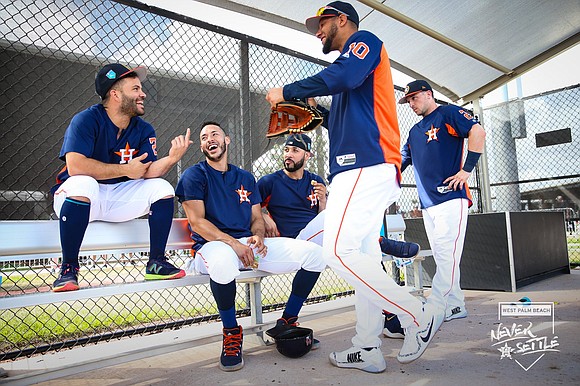 On March 29, 2018, baseball enthusiast will hear those words they have been waiting for since the final game of the 2017 World Series.
"Let's Play Ball!"
But for a certain group of fans that reside in the fourth largest city in America, it will be oh so much sweeter. The Houston Astros will start their defense of their World Series title against in-state and division rival, The Texas Rangers at Global Life Park in Arlington. I would like to say that this will be just another game, but it's much more than that.
No one will ever forget the destruction the city of Houston and surrounding areas suffered from Hurricane Harvey back in August of 2017, especially the Astros who were stranded in Dallas after playing a series in California the night before. Houston's team management went to the Rangers management and proposed a home in home switch due to the recent catastrophe that prevented them from getting back to Houston. The Rangers rejected it and the game ended up being played in the Tampa Bay Rays Park in Florida.
So to say that there is some tension and bad blood between the two teams is an understatement. Oh and let's not forget the fact that the Astros will be hoisting a World Series Championship banner on April 2, 2018, that the Rangers have to look at every time they set foot in Minute Maid Park.
But I digress.
The Astros will head into the 2018 season as the perineal favorites to win it all again, but don't ask Houston's skipper A.J. Hinch to look too far into the future. "We will take this season one series, one game at a time. Our guys have had an ample amount of time to enjoy themselves and now it's back to work," said Hinch who has managed the team since 2015.
As fans we would like to take that approach as well, but when you have a roster that includes Jose Altuve (AL MVP 2017, 2017 AL batting champ, AP Male Athlete of the Year 2017), George Springer (2017 World Series MVP, 2017 All-Star), Dallas Keuchel (2015 Cy-Young Award Winner, 2-time All-Star) and Justin Verlander (4-time AL strikeout leader, Cy- Young Award Winner, 6-time All Star). How can you not be excited about potentially putting another banner up? The Astros talent run so deep in that clubhouse that even some of the players who don't play every day, would be starters on other teams.
Houston Astros general manager Jeff Lunhow even knows that he has one of the most complete and talented rosters in all of major league baseball. "I really like the group we have here. That being said, the first couple of weeks in camp there's always a few things that can happen. We have such a complete club at this point that it's hard to envision us doing anything aggressively," Lunhow said after the Astros wrapped up practice on Monday.
The 2018 MLB baseball season is already exciting for us Astros fans and it hasn't even started yet.
"Let's Play Ball!"