DJ Reader is On a Mission of Love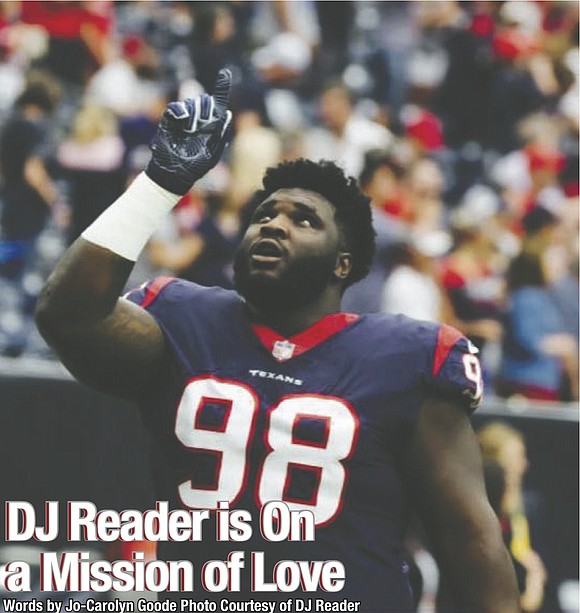 He was his teacher. He was his mentor. He was his best friend. David Reader Sr. was everything to his son, Houston Texans' Defensive Nose Tackle David Vernon Jr. or DJ. Four years ago Reader lost his father to a disease that claims the lives of more people than breast or prostate cancer. An estimated 661,000 Americans have kidney disease according to the National Institute of Diabetes and Digestive and Kidney Diseases yet little is known about this deadly disease. Reader wants to change that as a tribute to his father on a mission of love.
Kidneys function by removing waste products and excess fluid from the body. The waste products are removed through the urine. When a person has kidney diseases this process stops working and the waste products build up in the body. As a result, a person may experience high blood pressure, anemia, weak bones, poor nutritional health and nerve damage. If the condition worsens to kidney failure, dialysis or a kidney transplant is needed to sustain life.
Think about these facts about African Americans and kidney disease from the National Kidney Foundation. African Americans are three times more likely than Caucasians to get kidney disease due to high rates of diabetes, high blood pressure, and heart disease. African Americans constitute more than 35% of all patients in the U.S. receiving dialysis for kidney failure, but only represent 13.2% of the overall U.S. population. Diabetes is the leading cause of kidney failure in African Americans. High blood pressure is the second leading cause of kidney failure among African Americans and remains the leading cause of death due to its link with heart attacks and strokes. Other conditions such as Lupus, Glomerulonephritis, polycystic kidney disease, urinary tract infections, and more can also cause kidney disease.
Reader's father kidneys failed as a consequence of type 2 Diabetes. His father also had high blood pressure. Not wanting anyone in his family to give him a kidney, Reader's father opted to undergo dialysis to treat his kidney disease. Unfortunately, the disease had progressed too far and his father passed away. "We thought he was going to be alright but ended up not going that well," said Reader.
As one can image, it was an extremely hard loss for Reader. He had a very close relationship with his father starting early on when his father homeschooled him as a child. The relationship got closer as his father cheered him at football games and supported him throughout his life. "I was fortunate to have a great man in my life," said Reader. He established the David Reader Sr. Foundation to educate others about the kidney disease to honor his father's legacy.
Going through the death of a parent changes a person. And it changed Reader. He says now he doesn't take things for granted. "I live life to the fullest I feel like and things I want to do I try my best to go do them. I don't get down on myself. I work hard," he said as he remembered his father. " I just try to apply everything he taught me and the fight that he put up through everything, even when he wasn't feeling well with all the different types of problems, you can still put a smile on someone's face."
Putting smiles on the faces of youth is what Reader does best through his foundation. He teaches the fundamentals of football to children free of charge in his native Greensboro, NC at the DJ Reader Football Camp.
On or off the field, Reader is making every day count by focusing on the things that matter to him. He is a man on a mission of love.