Houston Locals Take the Podcast World by Storm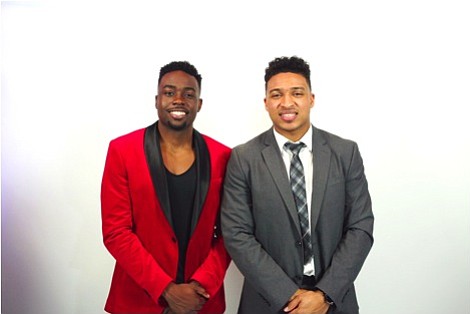 In 2017, we saw a steady rise of podcasts and saw as they quickly became a guilty pleasure for everyone who is on the go but wanted a change from the radio. Houstonians alone have grown more keen to podcasts but little did we know we had our very own best kept secret brewing right in our own backyard.

Hafeez Baoku and Chris Below began "The Roommates" podcast early in January 2017 (Yes, as actual roommates!) and have seen much success in a very short period of time by averaging 3,000 downloads per month and gaining a large social media presence. The show is a late-night conversation taking you behind the scenes of becoming an adult with all the people, conversations, and perspectives you'd experience on the way. With covering everything from fitness to relationships, and self-help, "The Roommates" podcast is a show that any and every one can enjoy.
"I like to explain the show as a crossover of being entertained like a talk show, educated like a TED Talk, and enlightened like a sermon. Our show is different because we cover all basis and want to produce content where any and every one can enjoy it," said Hafeez Baoku.
Although many think the podcast market is becoming over saturated that is not the case. There are many podcast out but very few that release quality content with a good quality production. "The Roommates" made a name for themselves by knowing the right direction to take their show so that it is not easily grouped into things that we have already seen before. It is very rare that we not only see young males doing positive things but also making an effort to see a different point of views. In 2017, "The Roommates" has had guests on their show that represent different platforms from the Back Lives Matter Movement to the Young Republicans group and even a gospel recording artist.
"I really enjoy the show, not only are they funny but they are very well rounded when it comes to topics and takes the initiative to be open-minded and learn new things, which is very rare these days," said Olivia Mitchell, a loyal listener.
Like many other entertainment related markets breaking into the podcast, the industry is not easy. It requires a lot of time and dedication and Hafeez and Chris have proven that they are up for the challenge. Even though they both work full-time jobs and balance their personal life they have been dedicated to producing weekly episodes and being interactive with their listeners on social media.
As someone who is an active podcast listener, I quickly grew to like this podcast. It is something about expecting the unexpected. No two shows are alike and they all cover different topics. A lot of times podcasts only cover one topic or show a left side view of things. It's refreshing knowing that you won't get a biased opinion on things when you tune in. Aside from being open to different perspectives you can tell that the duo has also put time and effort into their production. Not only do they have a studio where they shoot the shows they also invested in top market sound equipment which shows how dedicated they are to their craft.
"The Roommates" have accomplished a lot in a very short period of time but they are only just getting started. The duo has declared 2018 as the year of breaking barriers and continuing to grow to reach a larger audience while still staying true to their original vision and foundation.
Make sure to subscribe to the podcast on iTunes https://itunes.apple.com/us/podcast/the-roommates-podcast/id1193460831?mt=2 and follow "The Roommates" on social media @Roommateshtx.