Rep. Shelia Jackson-Lee, Rep. John Lewis Host Townhall On Criminal Justice Reform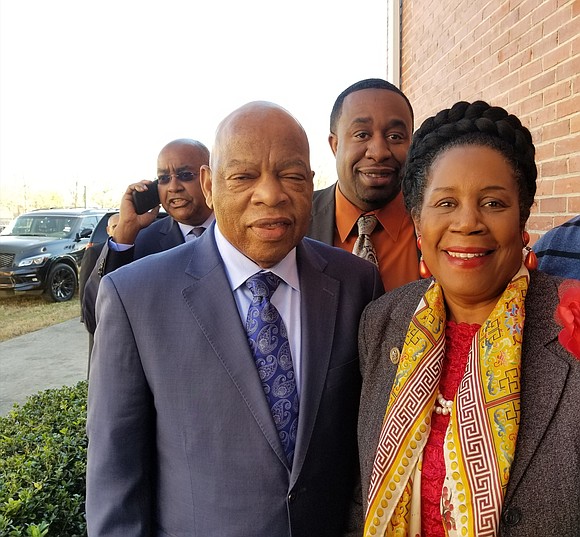 With civil rights icon Rep. John Lewis (D-GA) in attendance, a townhall on criminal justice reform Wednesday became the center for a larger discussion about one of the more troubling civil issues facing America currently.
Rep. Shelia Jackson-Lee called for the Townhall, which took place at Pleasant Hill Missionary Baptist Church in Fifth Ward and had invited guests such as Mayor Sylvester Turner, Houston police chief Art Acevedo, and Harris County Sheriff Ed Gonzalez.
"We cannot give up on anyone!" Lewis said to a near standing ovation from those in attendance. "We all are human! It doesn't matter if we're Black or White, Latino, Asian-American or Native American. We are one people!"
Statistics regarding African-American incarceration were shared throughout the room. One of the more alarming statistics revealed showed that African-American men were sentenced at a rate 20 percent higher than their White counterparts. Panelists including Harris County District Attorney Kim Ogg cited certain areas that needed reform.
"I think the greatest threat to democracy and our freedom is when we lose hope, and we stop believing in the American justice system," Ogg said. "It is at the foundation of order in the country."
Consistency within the justice system has been a major talking point for Jackson-Lee and a host of others who fear the work of the Justice Department under Eric Holder and former President Barack Obama will be undone by current Attorney General Jeff Sessions and President Donald Trump.
"The overhaul of the juvenile justice system we are beginning because 'steps' may not be enough," Lee said. "It may have to be a race."