Meet the African American and Hispanic Valedictorians of 2018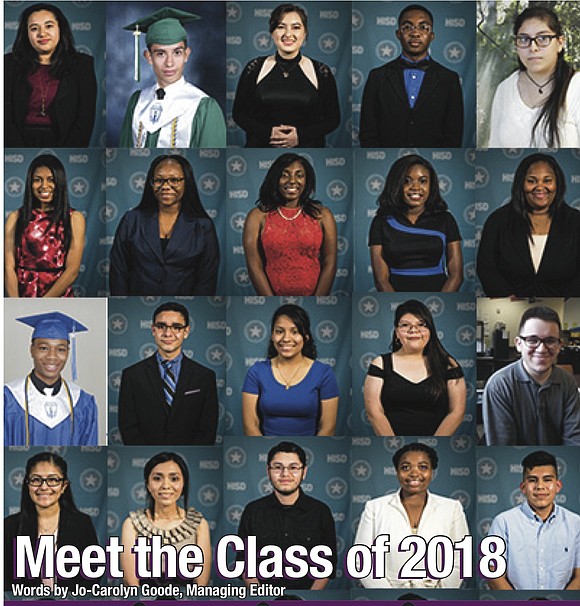 Before kindergarten, you couldn't wait to go to school. Finally reaching the enrolling age, your parents set you on your educational start. Mastering your numbers, colors, and ABCs, you advanced through the grade levels to reach the ultimate goal, high school graduation. And now you are here, graduation. You sacrificed and pushed hard to get to this point and don't stop now that you have made it. As you draft the next chapter of your life, set new goals to achieve to live your dreams. High school graduation is your first step, not your last, to success. Congratulations and continue to dream big Class of 2018!
Meet the Class of 2018 Valedictorians from Houston ISD and one history making valedictorian from Spring ISD!
Luis Alonso Diaz Longoria
Austin High School
He is the King of AP Physics. Luis Alonso Diaz Longoria was quite the student in high school favoring the subjects of science, math, and history. The Act Honor Roll student enjoys playing soccer, designing computers, and working with phones. Scholarships from East End Chamber of Commerce Foundation, Rotary Club of Harrisburg Foundation, Ronald A. Hammond will come in handy at the University of Miami where he plans to major in computer engineering.
Deiondra Shorts
Barbara Jordan High School
Delondra Shorts is University of Texas at Austin bound where she will study communications. Before graduating high school, Delondra was an honor roll student with perfect attendance. Her favorite subjects were business, marketing, literature, U.S. government, and pre-calculus. The former class president and senior class vice president is an avid volunteer at the Houston Food Bank. Her hobbies include reading, cooking, listening to music, fishing, and exercising. She is proud to be part of the last graduating class at the historic Barbara Jordan High School for Careers.
Gilberto Guadiana
Chavez High School
Gilberto Guadiana showed his smarts inside and outside the classroom. The Dean's List student relishes in playing chess, investing, meditating, reading, and running. His favorite subjects were math, calculus bc, and English. He racked up a lot of awards and honors including National AP Scholar, National Hispanic Scholar, AP Capstone Diploma, and 1st place Texas State Chess Team. Gilberto has committed himself to Northwestern University to major in mechanical engineering.
Elescia Martinez
East Early College High School
In the future, Elescia Martinez will want to listen to your thoughts as a psychiatrist. Her plans at the Brandeis University include concentrating on the field of psychology. Her interests focus on listening to music, writing short stories, and watching dramas. English, history, and algebra were her favorite subjects. Her scholarships are plenty. She received funds from Brandeis University Friends and Alumni Scholarship, UH Academic Excellence, UT President's Texas Advance Award, and UT Raise Me.
Angie Estrada
Eastwood Academy
Angie Estrada will stay locally to further her education at Rice University. Since calculus, art, and computer science were her favorite high school subjects, it's no surprise that she will major in engineering and/or computer science in college. The AP scholar's interests are diverse in drawing, costume designing, crafting, reading, and playing the piano and video games. She has received awards and honors not limited to honor roll, National Hispanic Recognition Program, Blue Ribbon Award, Vase Regional Medal AP Division, and Debate Junior CX Champion.