Larry V. Green: Friend, Mentor, and Leader for All
The Life & Legacy of Larry V. Green Told By People Who Knew Him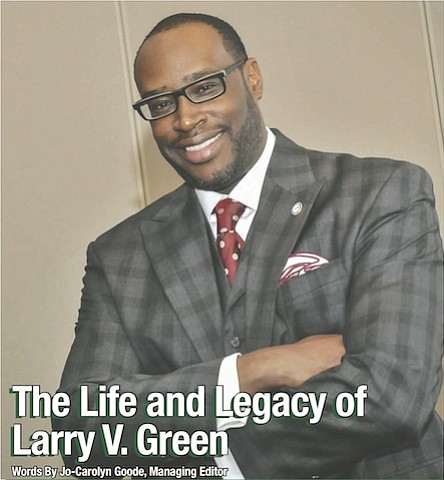 Green has always been associated with new life, growth, and a certain kind contagious energy. These descriptions align perfectly with the character and legacy of Houston City Councilman Larry V. Green. In his well-lived life that was shorten all too soon, Green was able to use his power and influence to bring liveliness to the city of Houston and everyone he came across. With his passing, Houston has lost a bit of its color. Green was found dead in his bed at home on Tuesday, March 6. He was 52 years old.
Green was a friend to many, a mentor to some, and a leader for all. His roots were firmly planted in the bayou city as a Houston native. A product of Houston ISD schools, he matriculated at William P. Hobby Elementary, Dick Dowling Middle, and James Madison High. It was in those early years at Hobby that he met a lifelong friend in Houston Style Magazine publisher Francis Page, Jr. Remembering Green fondly Page said that they first bonded over their love for bikes and the friendship grew from there.
From schoolboy times to being the big man on campus, Green would further his education at the University of Houston and Texas Southern University's Thurgood Marshall School of Law. As he discovered who he was as a man, his natural leadership skills emerged in the classroom, student government, and through organizations like the brotherhood of Alpha Phi Alpha Fraternity, Inc. Fellow law school classmate Susan Bynam recalled how people were naturally drawn to him and that he was a born leader. "He was sharp. He was a bright student. He just had a very infectious personality. He was the type of student that never met a stranger." Bynam added that Green was a true advocate for things he believed in.
That strong belief system and fight for the right made him an excellent attorney. As he built his career, he forged influential relationships with people like that of Congresswoman Sheila Jackson Lee whose mentorship undoubtedly guided him to the political arena. Before he stepped into that platform, however, he would practice law privately for 21 years and help raise funds for a financially strapped HoustonWorks as its CEO.
The need to help the plight of his fellow man drew him to public service. In 2012, he made history as the first to lead the newly formed District K serving those from the edge of the Texas Medical Center to the portion of Houston within Fort Bend County. In this role is where he would really leave his mark on the city he loved so much.
With a clear understanding of the needs of residents of District K, Green knew a major issue was the lack of economic development in the area. During his first term as a councilman, he was able to infuse over 20 million dollars in the underserved area for street construction and repair, neighborhood police station, senior resident center and other projects. He increased the participation of MWBE/SBE and gave women-owned businesses back their seat in the city's affirmative action contracting program. Unique programs like Klean It Up/Green It Up and mini murals painted on traffic control electrical boxes took sights that were once eyesores and made them beautiful area attractions. His work was not just limited to the Houston. He led a delegation to Cuba for an educational excursion to learn of opportunities to better Houston. Most recently because of his advocacy in Washington, DC Houston won a $9.4 million grant from the U.S. Department of Transportation to improve 40 flood-prone traffic intersections with new technology that alerts drivers when high water is present.