Memphis Makes it's Way to Houston Audiences with an All –Too Familiar Narrative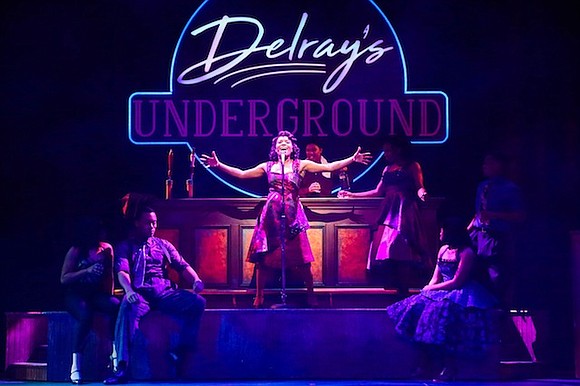 Written by Joe DiPietro and David Bryan and directed by Dan Knechtges, the story of Memphis begins in musically–rich Memphis during the 1950's south where Rock and Roll was born. It tells a story of a white radio DJ named Huey Calhoun who becomes obsessed with the taboo music of Blacks. Lured into a jute-joint by the sound of Rhythm & Blues, he starts to regularly visit a local nightclub for Blacks only and develops a crush on the nightclub's star singer, the beautiful and talented Felicia Farrell. Huey, in an attempt to win her affection, promises to get Farrell on the radio, a dream of hers for many years. Despite the outrage of the main character's families and friends (Huey's mom who fears black people and Felicia's brother who distrusts whites), the pair falls in love anyway and secretly date fearing for their lives in a racially divided south. As their careers rise in the Memphis music scene trouble arises as well, as they garner the attention of racists and feel the pressures of an outside world unable to accept their love.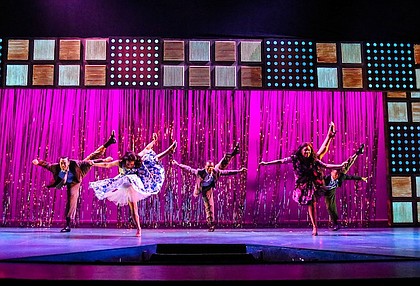 With choreography by Jessica Hartman and under the vocal direction of Darryl Ivy, Memphis is filled with vocals that soar and music that makes you want to jump on your feet and tap alongside the 50's styled dance ensemble. Among the lively jukebox dance scenes, there is the Swing, the Bop, and the Hand jive dance. The talent and irresistible fun choreography in Memphis the Musical is undisputable. The show features major Houstonian talent and many of the dancers and actors are students from TUT's own Humphrey's school of Musical Theatre.
There is an array of talented stars leading the casts as well. Actress Simone Gundy as Felicia Farrell is the break out singer and obvious star of the show. You may have remembered her as a top competitor from the NBC hit show The Voice. Gundy's double threat ability to sing and act was delightful to watch. She mesmerized the audience with her powerful gifted voice and brought the audience to their feet in her solo performances in songs Love Will Stand and Colored Girl.
Talented vocalist Barrett Riggins (DJ Huey) was funny, but overplayed his character's quirks and whiny voice so much so –that it was hard for me to believe his relationship with the strong, admirable and fierce Felecia Farrell- just didn't see the sparks or compatibility there. The supporting casts of vocalists were just as phenomenal and it was the show's talented ensemble that I felt carried the show along as well.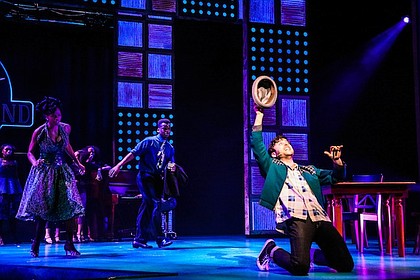 Another standout performance worth mentioning was actor Avionce Hoyles (Gator) he captured the audience with his soulful filled solo Say a Prayer. His range and skill as a vocalist were beyond words. Other audience hits were ensemble songs: Make Me Stronger, Everybody Wants to be Black on a Saturday Night, & Steal Your Rock 'n' Roll; all in which brought lots of amusement to the show.
Personally, I'm not sure how I really felt about his show. The talent is there within the cast and is undeniable for sure but I was disappointed in the storyline. It's the often-told storyline of heartless racism pitting whites against Blacks all while showcasing the ridiculous racists laws of Jim Crow. During the second act, I couldn't help but cringe as I watch actors with poetic license call each other "Nigger" and "Cracker" because a white and Black person wanted to hold hands, date, or even dine together in public. How can we ever move from the hurtful, racist-bigoted, shameful past if we keep memorializing it- as entertaining performance art? It's time I think to move forward.
After seeing Blank Panther and the inspiring future of a brighter and better narrative for all Black people and humankind, Memphis the Musical although entertaining to some, just feels oppressive. Yes, it may be a reminder of how things were, but we have to move past this all too familiar tale as a nation. I personally don't want to clap my hands or dance to the beat and celebrate it anymore.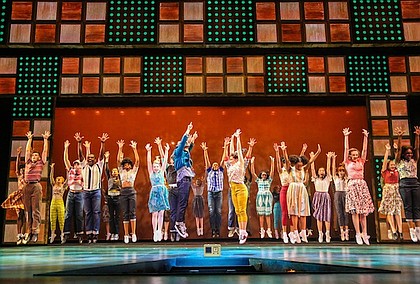 If you love the music of Rock and Roll/ Blues and don't mind the overly didactic parable of a Jim Crow racially tensed south, than this is a show for you.