First Ladies Acting First Class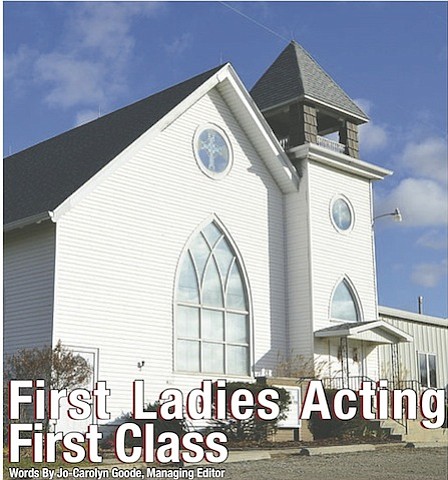 Upon their husbands answering the call to minister, preachers' wives stood alongside their husband in a supportive role. Even when their husbands would further follow the path as a shepherd of God by heading a church, wives remained supportive in their new role as First Lady. However, today's First Ladies are more than supportive for they are as big a public figure as their significant other leading ministries of their own and making their own marks on the community. Standing right beside their God-fearing husband, First Ladies are answering the call to minister to God's people in a first class way. In celebration of Women's History Month, Houston Style Magazine spotlights five First Ladies from the top five largest African American megachurches in the city.
Pastor Bridget E. Hilliard
First Lady of the New Light Christian Center
Forty-three years ago Pastor Bridget Hilliard sealed her commitment to God and family when she married Bishop Van Hilliard. She became his wife on a Saturday night and his permanent First Lady the very next day when he was installed as pastor of his first church. She has been by his side living a virtuous life following the goals they set years ago of loving God with their whole heart, loving the people God sent, and living by His word.
Following this pattern has allowed Pastor Hilliard to be blessed and be a blessing to many across the country through her various acts of ministry. She redefined the First Lady role once she co-founded the New Light Christian Center with her husband thirty-four years ago. Since then her witness and philanthropy was elevated to be a teacher, mentor, and, of course, a preacher to the church's 20,000 plus membership. In the process, she co-founded the Association of Independent Ministries to mentor other pastors, author books to use as a tool to change lives and even once was the senior pastor at New Light's Beaumont location. One of her greatest legacies besides her three daughters and four grandchildren is the gift she continues to give to the current generation of women and the next generation of girls to win in life through the Women Who Win Conference and the B's Girls Foundation.
Pastor Mia K. Wright
First Lady of the Fountain of Praise
More than two decades ago Pastor Mia K. Wright took the hand of Pastor Remus E. Wright to start an incredible journey together. Trusting God, the pair embarked on the path of guiding the congregation of the then South Post Oak Baptist Church with its then 150 membership in 1991. Twenty-seven years, one name change, and 20,000 plus members later, The Fountain of Praise has become one of the country's most influential churches with inspirational leaders. All because Pastor Wright decided to trust God, allow Him to lead her, and take the limits of her life.
Now for the past eighteen years since entering the ministry, the highly sought-after speaker is fulfilling her passion while helping others to pursue their own. She relishes in taking broken people, places, and pieces and making them whole and filled with purpose. The founder of one of the largest faith-based conferences for women, Metamorphosis, utilizes her faith coupled with life skills learned and her own personal enrichment to positively impact lives to transform people for the better. This effort has spawned five other programs to ensure that no one soul is left behind. The mother of three has chosen to broaden her reach with the release of her first book, 'Unthinkable' that challenges people to follow the path of biblical characters who did the unordinary to experience the extraordinary.
Pastor Suzette Caldwell
First Lady of Windsor Village United Methodist Church
Being each other's best buddy is what drew the power couple of Suzette and Kirbyjon Caldwell together some 27 years ago. That friendship built on a foundation of faith is what has kept them together and allowed them to be builders of the Kingdom of God. Standing on the belief that there is power in prayer, Pastor Suzette Caldwell is living on God's promises and following His plan for her life. Before she became the First Lady, she was an environmental engineer with her own consulting business. Today, she utilizes the skills gained from her corporate career to help others see God's plans for their life implemented on earth.
Walking by faith and trusting God all the way, Pastor Caldwell is achieving her dreams and desires. She believes in the power of prayer and has devoted her life to introduce people to prayer, teach them how to pray, and help them to see how it works. As Associate Pastor of Windsor Village United Methodist Church and Chairman of the Board for the Prayer Institute, Pastor Caldwell is the ultimate prayer warrior. Through the ONE Project, she has a goal of uniting one million people through prayer. She has further spread her message by putting prayer to pen to author five books on the subject for children, teens, and adults. The mother of three is constantly requested for advice as a member of numerous boards and is the recipient of countless awards for her thought-provoking work.
Sheretta M. West
First Lady of The Church Without Walls
When Sheretta M. West met Ralph West many years ago she had no idea what God had in store her. Yielding not to her own understanding, she took that leap of faith to experience joys beyond her wildest imagination. Living her life, as a witness before the lost, as a woman of worth, as a crown about her husband's head, and as a legacy before her children, Mrs. West has become a First Lady guided by faith and courage.
As First Lady, she wears many hats. The main hat is the ministry leader for the Mosaic Women's Ministry where she is constantly in teaching mode to bring women of all ages closer to God. Ministering to women grew the desire to mold the next generation. Mrs. West accomplishes this through The Diamonds in the Rough program where she smooths out the rough edges of today's teens to develop them into the true jewels that they are. And as an unwavering support to her husband, she manages Ralph Douglas West Ministries. Sounds like a lot already, right? But that is only half of what this extraordinary woman of God does. She is also the Executive Producer of the Encouragement Today Broadcast and the Editor of the church's magazine, Brook. Plus, she is the co-founder of Pamper, Pray and Play, a spiritual retreat for pastor and minister spouses and founder of Charmingly Pink Breast Cancer Foundation. In addition, she sits on the board for the March of Dimes. What seems like a lot for some is the life beyond mediocrity for this busy First Lady. She is committed to doing any and everything to bring all glory and praises to God.

Audrey Marie Cosby
First Lady of Wheeler Avenue Baptist Church
It was as if they were a match made in heaven. Audrey Cosby and Rev. Dr. Marcus D. Cosby are one of those rare couples that found love in high school and have stayed united together in love for all these years. No doubt holding that bond together are the mighty hands of God and the result of faithful followers of His word.
Moving by God's directive, Mrs. Cosby crossed paths with the man who would become the love of her life early on and this allowed God to take her on one unbelievable fulfilling journey. Coming to Houston to be the new First Lady of the prominent Wheeler Avenue Church family in 2004, Mrs. Cosby mentors youth as the Middle School Ministry Liaison. Something she has a lot of experience in, as she is the mother of five beautiful children. Balancing the demands of the role of the First Lady with that of caring for her family is challenging for Mrs. Cosby but one that she handles with grace and style because God has granted her so much favor. It is this same grace that she helps others seek in their own lives through constant prayer and growing in a relationship with the Father above.
Houston Style Magazine salutes these women who are making and have made great contributions to the citizens of Houston. They are First Ladies who act first class in all that they do.