2018 Ram 1500 Laramie Longhorn Crew Cab 4x4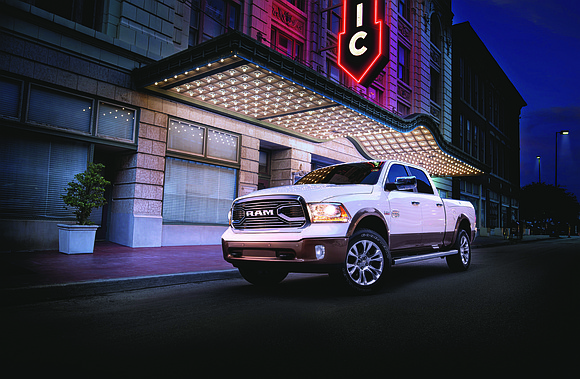 Horses, cows, bulls, and hogs
Cowboys, ranchers, singers, and clowns
Music, shopping, eating, and big fun
The rodeo is all said and done
As the many trailers all leave town
They're hitched to the best rides around
In trucks as wide and big as Texas
They're tough enough to keep the paces
With many brands from which to choose
For the next seven days, Ram 1500 is what I cruise
If you love trucks, living in Texas is like a dream come true. What other state is there where manufacturers make a model of their truck just for a state? That's the power of Texas. Being as specific to theme a truck after Texas is one thing but when adding the fact that the truck is best in class for its segment coupled with luxury. Well, my friend that is called an easy choice. Why else would you pick any other truck to buy? If that it is not convincing enough keep reading and I am sure to have you hooked by the end of this article.
The 2018 Ram 1500 Laramie Longhorn Crew Cab 4x4 is unlike any truck I have seen. So much so that it left me speechless. That's hard to do considering the volume of auto reviews I write. I was at a lost for words because the truck is simply gorgeous especially in the two-tone bright white with brown undertone along the bottom of the truck. I know that is not the usual description associated with a truck but it is beautiful upon first glance and further exploration of it will make any buyer fall in love and say repeatedly, "Wow, wow, and wow!"
Looking at the Ram 1500 whose height is just over 77 inches, I have never felt so small. This truck is huge! Sitting on 20-inch aluminum polished wheels with brown inserts, the Ram 1500 is king in the light-duty pickup division. The ground clearance is nine inches. It does not take on a boxy shape but rather embraces its curves for better aerodynamics. The buckle inspired Ram Longhorn branding is right there in your face letting all know it is not your average truck. Chrome detailing enhances the luxury look on the upscale grille with Ram badging, LED lights, mirrors, door handles, and everywhere. Side mirrors are a triple threat in that they are heated, power folding, and auto-dimming.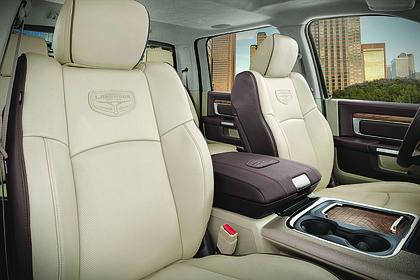 I had a slight panic attack thinking when looking at the size of the Ram 1500. "How am I going to get in this thing?" I thought. Lucky for me (and short people), the Ram 1500 comes with wheel-to-wheel side steps and a grab bar to aid in accessing the vehicle's cabin. The side step also extends just past the cabin to help with getting to the truck's bed. In the 4x4, the bed length is six feet four inches with two sizable Ram lock boxes on the sides. Equipped with a spray-in bedliner, there is a switch to control the LED lights inside the bed.