Crystle Stewart: Homegrown Talent Stars in Tyler Perry's 'Acrimony'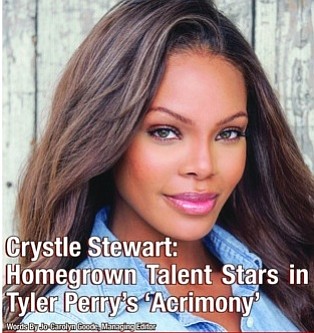 What would happen if …? How many times in a lifetimes does one pose this question to themselves? What if this path was taken? What if I had taken this or that opportunity? What if my path hadn't crossed with that person? What if I had given that person a chance? Sometimes we are grateful that we moved quickly for the things we leaped on. But at other times we live in regret for things we let go because we ran out of patience. So many questions that go unanswered and hang on in our thoughts is enough to make a person go crazy if one lets it. Living in regret or being grateful is the basic premise behind the new Tyler Perry film 'Acrimony. '
The film that opens nationwide this Friday, March 30th, stars Taraji P. Henson, an incredible actress that always gives stellar performances but nothing beats her playing a woman scorned. But Houston area residents will have another reason to flock to theaters to see this film…to see one of our very own on the big screen. Crystle Stewart Sebrechts stars opposite of Henson as the woman who has the life she wants.
In 'Acrimony,' Henson plays Melinda Gayle, a woman who bought into the entire romance fantasy by marrying her college sweetheart and expecting the happily ever after ending. Only the dream never really came to fruition, at least not while Melinda was wifey. For years, she played the devoted wife pouring everything she had into her husband Robert played by Lyriq Bent while holding down the house to help him succeed. After a while, that weighs heavily on a sistah, especially one that thought she was the one that was going to be taken care of and not the one doing the caretaking. Fed up Melinda tells her husband she is tired and sends him packing. Leaving the door wide open for Diana played by Stewart. Robert and Diana get engage and marry right when things start to fall together for Robert. Now Diana is living the life that Melinda dreamed of having and she feels betrayed. Melinda becomes enraged and well that is where the movie gets good. Before you think you know what happens, stop. Don't think that. Perry says this movie takes a lot of twists and turns to the unexpected.
Stewart describes her character as one who is kind, intelligent, and has a big heart to want the best for people. These characteristics are what drew Robert to Diana. "She saw his ambition. She believed in him and she had the patience," said Stewart but hinted that the way Diana is portrayed in the movie audiences may think the opposite of her.
Stewart makes her big screen debut in 'Acrimony' and admits that she was nervous at first on set. However, Henson and Bent were very helpful in making her feel at ease. Some of the best advice Henson gave Stewart was to take her time. "Because sometimes on set you have to cry right after doing a scene when you were completely happy, " said Stewart. That transition can be difficult for a new actress. "So she (Henson) said just take your time. You take that moment to make it happen so I think that was really good advice," commented Stewart.