Hop Into Easter Dinner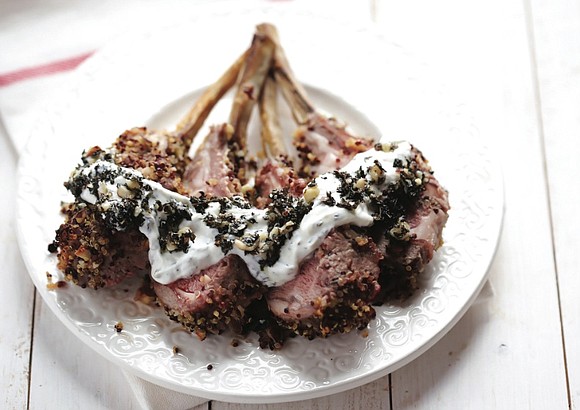 This Easter holiday, hop into a new tradition and swap your classic ham for savory lamb.
Cooking lamb can be easier than many might think. Simply try baking a rack of lamb crusted with a quinoa-hazelnut combination and topped with a mint pesto.
For a perfect, set-and-forget side, try slow cooker carrots, sprinkled with dill weed and lemon extract for a delightful spring dish.
Find more Easter recipes at McCormick.com and find McCormick Spice on Facebook and Pinterest.
Rack of Lamb with Quinoa-Hazelnut Crust and Mint Pesto
Prep time: 20 minutes
Cook time: 40 minutes
Servings: 6
2 tablespoons red quinoa
2 tablespoons white quinoa
1/2 cup water
1/4 cup, plus 1 tablespoon, finely chopped toasted hazelnuts, divided
2 racks of lamb, about 1 pound each
3 tablespoons olive oil, divided
1 1/8 teaspoons McCormick Gourmet Sicilian Sea Salt, divided
1/4 teaspoon McCormick Gourmet Organic Black Pepper
2 teaspoons lemon juice
2 tablespoons McCormick Gourmet Organic Mint
1/8 teaspoon McCormick Gourmet Organic Garlic Powder
1 cup plain Greek yogurt
Rinse quinoa; drain well. In small saucepan over medium-high heat, bring quinoa and water to boil. Reduce heat to low; cover and simmer 13 minutes, or until liquid is absorbed, stirring occasionally. Spread cooked quinoa on baking sheet to cool. Stir in 1/4 cup hazelnuts. Set aside.
Heat oven to 450 F. Brush racks of lamb lightly with 1 teaspoon oil. Sprinkle with 1 teaspoon sea salt and pepper. Coat lamb with quinoa mixture, pressing firmly to adhere. Place lamb on roasting rack in foil-lined, shallow roasting pan. Drizzle with 2 teaspoons oil.
Roast 20-25 minutes, or until desired doneness.
To make Mint Pesto: In small bowl, mix remaining oil, remaining hazelnuts, lemon juice, mint, garlic powder and remaining sea salt until well blended. Stir 1 teaspoon pesto into yogurt.
To serve: Carve lamb into chops. Drizzle with remaining pesto. Serve with yogurt sauce.
Lemon Dill Slow Cooker Carrots
Prep time: 10 minutes
Cook time: 3-4 hours
Servings: 6
Nonstick cooking spray
2 pounds carrots, peeled and cut into 1/2-1-inch chunks
2 tablespoons water
1/2 teaspoon salt
2 tablespoons olive oil
2 teaspoons McCormick Dill Weed
2 teaspoons McCormick Pure Lemon Extract
2 teaspoons Dijon mustard
1 teaspoon white wine vinegar
Spray inside of 4-quart slow cooker with nonstick cooking spray. Add carrots, water and salt; toss to coat. Cover.
Cook on high 3-4 hours, or until tender.
In small bowl, mix olive oil, dill weed, lemon extract, Dijon mustard and vinegar. Stir into cooked carrots in slow cooker before serving.