Good Things Comes to Those Who Wait Houston Texans Has a Great 2018 NFL Draft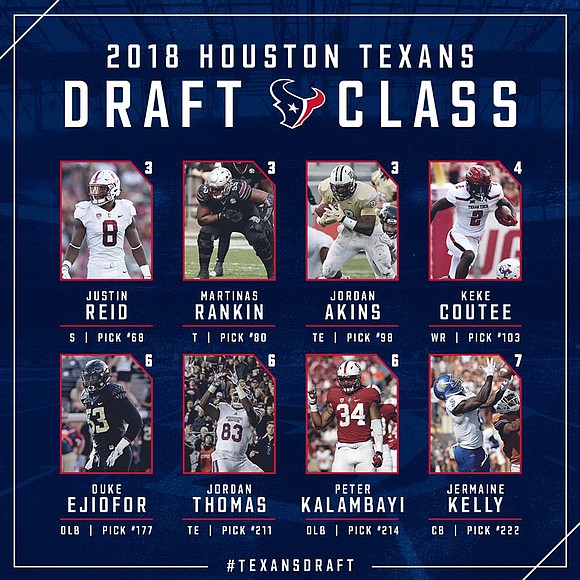 I am a firm believer in good things comes to those who wait and evidently, the Houston Texans believe the same thing. Their first draft picks came on the second day of the 2018 NFL Draft (Round 3 pick 68, 80, and 98) and the Texans did an excellent job of selecting needs of the franchise.
"Tonight, was a good night for the Houston Texans. We worked hard to improve the roster and the team," said new general manager Brian Gaine who took over for a long time GM Rick Smith who departed to take care of his wife who is dealing with health issues.
With their first pick of the day, Houston selected Safety Justin Reid from Stanford. He is the younger brother of former San Francisco 49ers Safety, Eric Reid who he uses to break down game film with to learn more about the NFL. The 2017 All-PAC 12 first team selection was very excited to be coming to play alongside great defensive players such as J.J. Watt, Jadeveon Clowney, and Tyrann Mathieu.
"It's going to be awesome to really learn from those guys and see what they have to teach me about their success and how they got to the level they are now," Reid said with enthusiasm.
In the off-season, the Texan addressed one of their biggest needs through free agency by bringing in three offensive linemen to protect franchise quarterback DeShaun Watson. Houston also used the 80th pick in the third round to bring in the offensive lineman, Martinas Rankin from Mississippi State.
"I am excited and can't wait to meet him. I get to come in and help protect a great, young quarterback," Rankin responded when asked about protecting QB Deshaun Watson.
Rankin is a guy who can play all five positions on the offensive line, which brought high praise from the Texans organization. "We believe that if he has to play guard or tackle, whether it be right side or left side, this guy has the versatility to that," GM Gaine said as he spoke to the media after the draft day was complete.
The last pick of the night came in the form of an immediate need for Houston. The Texans lost their tight end, C.J. Fiedorowitz this year to retirement. So, with their last pick in the third round, they took a 6'3 tight end out of the University of Central Florida, Jordan Akins. Head coach Bill O'Brien had very positive things to say about the young man he coached in the 2018 Senior Bowl.
"Jordan was a guy that really came across very well, both as, obviously a person and then as a player on the field. Good work ethic, good ability in the passing in the passing game," O'Brien reiterated about Akins.
With a host of picks in rounds 4 – 7, the Texans continued to stock pile players at positions that will help them next season including OLB Duke Ejofor from Wake Forest. Ejofor is a hometown kid who played football at Alief Taylor. All in all, it was a very good two days for the franchise. Good things do come to those who wait.