Schlitterbahn Galveston Officially Opens for the Summer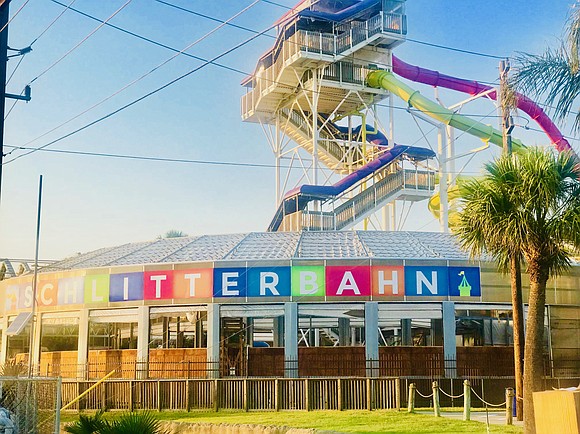 Houston area families get excited because the Schlitterbahn waterpark in Galveston has officially started its 2018 summer season. The park has opened its Schlitterbahn LITE sections to guests. Right now families with members of all ages can enjoy the park's Blastenhoff and Wasserfest sections at a discounted price. The sections are now open daily from 10 a.m. to 5 p.m. on weekdays, and until 8 p.m. on weekends.
Schlitterbahn Galveston is home to the world's tallest water slide, the MASSIV Monster Blaster, which is open!
The park's attractions cater to even the youngest swimmers with pools reaching no more than 36 inches.
The Bahnzai Pipeline body water slide is a great attraction designed for newbies or non-swimmers. My four-year-old loved it. This slide also pools into 36 inches of water.
Families can go tubing in the popular Transportainment river system that connects the entire park, allowing visitors to "float throughout the entire park without ever leaving the water," according to Schlitterbahn's website.
I was surprised at how easy it was to keep a close eye on my four, nine, and 10-year-olds while we visited every open attraction at the park. No one had to miss out on any of the rides. But, be careful around the Torrent River and make sure everyone has a tube (my four-year-old and I had a two-seater) because the waves get pretty intense in that section.
Two water slides that we rode multiple times were the Loopy Luge and Guada Loopy. It is two attractions rolled into one with four different slides that my kids and I really enjoyed. I think the main fun factor for the kids was riding through dark tunnels.
I didn't get to use the park's beach areas much, but there are several lounge chairs stationed in different beach locations throughout the park.
Schlitterbahn has a very attentive staff. "It's ok if she can't swim, I'll catch her," one of the staff members said as I walked my daughter to her first slide. Each attraction has staff members stationed in plunge pools to assist guests when they reach the bottom. The park also has plenty of life jackets available in multiple sections for guests to use at their leisure.

Several food areas are available throughout the park for guests. Schlitterbahn allows its guests to "bring their own picnic," but does not allow alcohol.
Guests or large groups can make a day of their park visit with a fully-furnished cabana rental. Cabanas accommodate up to eight people and come with bottled water and wait service.
Locker rentals are also available for guests to place personal belongings.
Overall, my kids and I had a very comfortable experience at Schlitterbahn. This park was definitely designed with families in mind.
The entire park, which includes one additional section, Surfenburg, will open in June. Schlitterbahn LITE general admission tickets start at $36 online.