Midterm Elections 2018: The Year of Women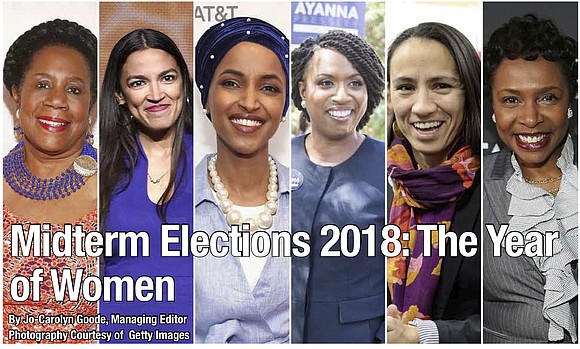 "Make America Great Again" was the promise Donald Trump made two years ago when he became the leader of the free world. Improved health care, a better economy, and a border wall paid for by Mexico were on our horizon. What we got was scandalous investigations, corrupt international relations, and a flood of offensives that would have caused the start of impeachment hearings for any other seating US President. Trump's racist rants and loathly lies have divided America versus bringing us together. America's outlook was bleak rather than bright. Then midterms roll around and Americans who had enough of Trump ran, not walked, to the polls to turn lands that were once red, blue (or almost blue) again. Now with this shift in power, will America rise from the ashes of hate and stagnation to finally allow love and progress to prevail? If that happens then America can truly be great.
Election night wasn't all that Democrats had hoped for but it certainly wasn't the worst. Gaining control of the U.S. House was a major win. But the bigger win was how women not only stepped up to serve but won carving out their place in history accomplishing fetes yet unseen before. More than 100 women will be serving in Congress. Twelve women (and counting as some races haven't been called) are the first women of their ethnicity representing their district. Nineteen African American women were elected as judges in Harris County. Can we just pause and say wow to that girl power?
Ayanna Pressley unseated a 10-term vet to become the first African American representing Massachusetts in the US House of Representatives. And this was after she made history as the first African American on Boston's City Council. Pow!
Jahana Hayes was a teacher. In fact, she is a former National Teacher of the Year winner before she decided to throw her hat into the political arena. Her time out she makes history to become the first African American to stand for Connecticut in Congress.
Lauren Underwood got a taste of politics working as an adviser to the U.S. Department of Health and Human Services. She liked and took a chance at being the first woman and first African American to rally for the 14th Congressional District of Chicago. And she succeeded.
Native Americans have a seat at the table with Sharice Davids and Deb Haaland as their voice. These two ladies are from Kansas and New Mexico, respectfully. Plus, Davids is helping to fight for issues of the LGBT community as she is also the first lesbian congresswoman from her state.
Rashida Tlaib and Ilhan Omar are also bringing a different flair to the House as the first Muslim congresswomen. In addition to representing Michigan, Tlaib is the first Palestinian-American woman in Congress. Omar from Minnesota is toting some historic firsts of her own as the first Somali-American, first refugee and first woman of color in Congress.
New York is now home to the youngest member elected to Congress at the age of 29, Alexandria Ocasio-Cortez, and African American female Attorney General Letitia James.