Inner City Nutcracker Keeps Fine Arts Alive for Houston's Kids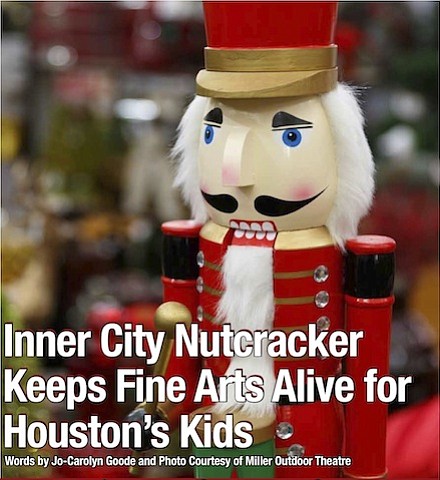 Having a vision for something that has never been done takes more than imagination. It takes passion and a can't stop attitude. Imagination is needed so that even though no one that looks like you is doing the desire profession you can still see you, not someone that looks like you, but the actual you, not just doing it, but killing it like no other person regardless of sex or ethnicity. A passion that burns so deep and fierce that eating, sleeping, and breathing it is the bare minimum of what you do to succeed. An attitude so unstoppable that you make even your haters and naysayers believe that you are more than capable of excelling in the profession. These are the qualities that ballet legends behold.
Before Misty Copeland and Lauren Anderson, there was Katherine Dunham, Janet Collins, Raven Wilkinson, Virginia Johnson, Pearl Primus, and Carmen deLavallade. These ladies who were always on pointe made historic first of their day that pave the way for the history makers of today. They are the ones who fueled the dreams of a little girl who dreamed and imaged that one day, maybe that could be me.
A young Charlene "Andie" James Piper and Krystle Simpson-Hamlet had stars in their eyes when viewing their first ballet. It was so whimsical and magical. They thought I want to do that. I want to be a ballerina. Like many little girls with the same goal, they did what kids do, they pretended they were one. Always walking on the tips of their toes, holding their arms in the shape of a ball, making costumes out of what they could find, they danced on the grandest of stages across to the country to larger than life audiences in their minds. Taking actually dance lessons to have that dream come to life would prove to be difficult.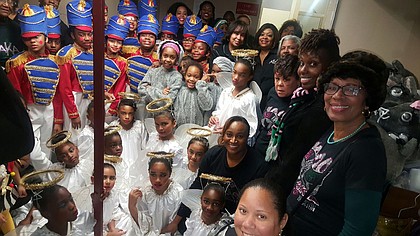 "I always wanted to be a ballerina when I was younger. My mom couldn't afford lessons," said Simpson-Hamlet, who also has several others siblings that made finances tight. However, when Simpson-Hamlet's mom learned of the Inner City Nutcracker when she was six-years-old that changed everything.
Piper, like Simpson-Hamlet, found out about the Inner City Nutcracker around the same time. Her mom had always had a passion for the arts and joined the board of the organization that would expose the arts to children who ordinarily wouldn't have been.
With the steady decline of fine arts programs in school due to lack of funding, teachers in the area, and those who think it not important, many children would not know the beauty of dance. Programs like the Inner City Nutcracker fulfill that need. Established in 1986, ICN introduces kids to dance and gives them the amazing opportunity to take lessons and even perform in a major production with the pros on the main stage. ICN has branded the gift of dance with the magic of Christmas by giving kids the chance to perform a holiday classic, The Nutcracker.
The Nutcracker is the famous tales of the toy nutcracker that comes to life after a little girl received it as Christmas gift. Once alive, the nutcracker engages in battle with the domineering Mouse King and his crew. The Nutcracker wants to stop the Mouse King in its track and help the poor.