Bobby Brown: His 2018 Prerogative
After breaking the Internet this year with the success of "Bobby Brown Story" on BET, the 'King of the Stage" has returned to reclaim his throne. Bobby Brown is back and larger than life after sharing 'HIStory' with the world. The biopic picked up where its predecessor "The New Edition Story" left off, taking us on a wild, yet entertaining roller coaster ride into the stellar rise, near demise, and redemption of the founding member of the R&B super group New Edition.
While it is no shock to us how Brown's life epitomizes the meaning of sex, drugs, and rock 'n' roll, it is clear that his hits may have kept him at the top of the charts, but his antics kept his name in the headlines.
But, today with all of that behind the original 'Bad Boy' of entertainment, Bobby Brown is back to do what he does best, and that is to entertain the crowd. New Edition members Ronnie DeVoe, Bobby Brown, Ricky Bell, and Michael Bivins are hitting the road for a major U.S. Tour under the name RBRM (Ronnie, Bobby, Ricky, Mike) and Bobby himself took a moment to speak with us in reference to all of the excitement that has been recently surrounding him lately.
Reginald Dominique: What are your thoughts about everyone's reaction to the "Bobby Brown Story" on BET?
Bobby Brown: It was great! I am very proud of the work the actors and the director did. My wife and I also produced it without company, Brown Ribbon Entertainment and I are really just proud of the finished work. It felt good to get my story off of my chest and get it to the people.
RD: Were you nervous about the backlash of putting everything out there?
BB: No. Not at all. I felt if I told my story, I would be staying true to myself. It was time for everyone to hear what I had to say instead of me being silent. I have been silent way too long. It was a chance to get things off my chest and I honored my mind. Life is a lot better for me knowing that I wrote the book and that we did the biopic. Who don't like it, don't. And whoever does, does.
RD: Tell us about this new single, 'Like Bobby' that is out now!
BB: The song came about from us doing the movie. I told Face (Baby Face) that I wanted him to work with Teddy (Teddy Riley) and those two had never worked together. So, it was me putting two great producers together to make this one song for the end of the movie and they came up with 'Like Bobby.' It was a great way to end the movie and start a new chapter. That is my 2018 Prerogative. I think love is being missed in most of the music that is out there right now and we need to bring more love into this world.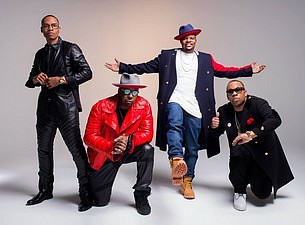 RD: How does it feel to be reuniting with your brothers of New Edition once again and going on tour as 'RBRM' (Ronnie, Bobby, Ricky, Mike)?
BB: Its been so much fun. We do four shows a week and every night it just gets better and better and we have more and more fun. The crowds are coming out and we are selling out everywhere! It's been perfect for us to hit the stage & now when we do, it is a whole different feeling than what it was before. We have always loved what we do, but right now us as grown men, we all have families that we have to take care of and its just fun to be out there giving the people exactly what we have always done, which was entertainment.
It is safe to say, Bobby Brown is not showing any signs of slowing down anytime soon. From owning his own production company (Brown Ribbon Entertainment), creating his own foods with all natural and real ingredients (Bobby Brown Foods), releasing new music, and touring across the U.S. with RBRM – the King of the Stage is reclaiming his time!