Shell Shack Brings the Whole Kitchen Sink to Houston
Yolanda Pope | 10/19/2018, 11:36 a.m.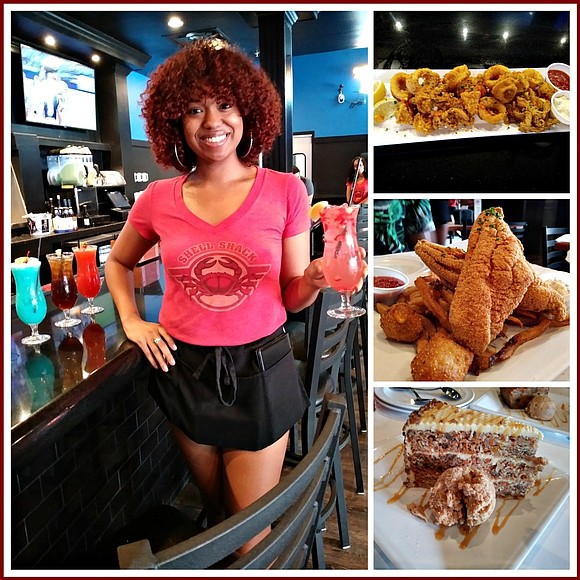 Since July of this year, Houston's Heights has been home to a seafood place that captures all of the flavors that our hometown natives crave - spicy crabs, crawfish, shrimp, tasty fried catfish, mixed cocktails, and craft beers. Seven days a week, from 11 a.m. until 2 a.m. hungry patrons can indulge their taste buds with boiled infused flavors with varying degrees of heat.
Located at 2412 Washington Avenue, Shell Shack welcomes everyone to experience their favorite seafood the way they like it. Formerly the spot of Social Junkie, the venue is a two-story building that can occupy up to 320 diners. The parking is ample, and they have valet parking as an option.
Now to the food
We sampled generous portions of boiled King Crabs seasoned generously with "the Kitchen Sink" flavors. The boiled delight came with red potatoes, sausage, and corn. My guest and I rolled our eyes with enjoyment as we savored every bite.
For our starters, we shared the Crispy Calamari, Crab Stuffed Tater Tots, and fried Crawfish Tails. The calamari was fried perfectly, and the pickled garnish of peppers brought out the sweet brininess of the seafood. As we indulged in the delicious platters set before us, my guest sipped on a Moscow Mule while I enjoyed a Taylormade Adult Cherry Limeade.
Next, the fried catfish platter made an entrance and we made short work of the crispy, lightly battered, well-seasoned dish. The catfish was prepared exactly the way I love mine, with a thin batter that covers the fish, but one does not have to pick off layers of it to taste the actual fish.

We visited with Managing Partner Mr. Paul Castillo who expressed his passion for serving a high quality experience to each patron and bringing locally sourced food to the menu whenever possible. The restaurant was clean and we didn't smell like "seafood" when we left the building.

Before making our exit we sampled some desserts, specifically, the bread pudding and carrot cake. The portions were large for sharing of course, and we did, and the sweets did not disappoint.
Check out what a reviewer wrote about their experience at Shell Shack, "This was our first visit. Initially, the place was a bit too loud but that was soon forgotten. Especially when the calamari arrived.... oh my goodness! Best calamari ever. Then our seafood boil arrived.... perfectly hot & seasoned. I have to say, I was so impressed with the presentation and more so the deliciousness of our order. "
Those comments sum up our visit as well, browse their website: www.shellshack.com, download a menu, plan your trip, and go.