Christina Morales: Proud of Her Heritage, Proud of Her Story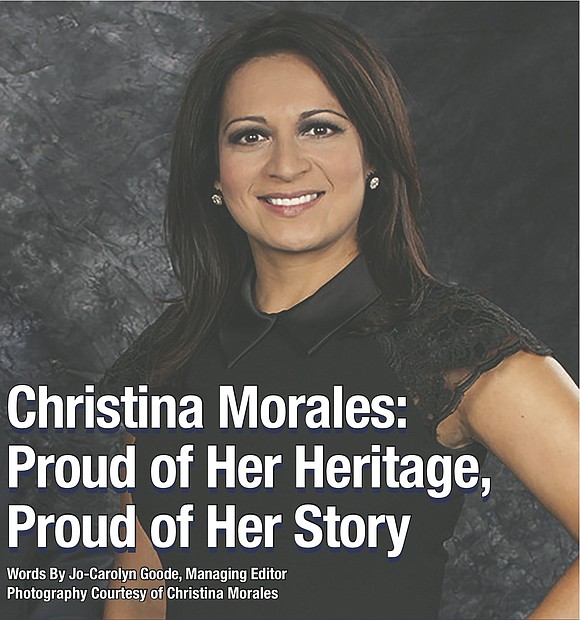 Being told that you are not good enough just because of your skin color is damaging to anyone no matter their race or age. It leads to far greater issues down the line. Having pride in your cultural heritage helps to build self-confidence and self-love while also claiming ownership of your ancestry and honoring the sacrifices, work, and love of those who came before you.
As a child being proud of self was hard to do for Christina Morales. She found herself just trying to fit into everyone else's definition of "normal" and deny herself of doing the things that made her uniquely who she was. "I remember feeling as though it was frown upon for us to speak Spanish and to feel like we were real Mexicans. We tried to just be normal, to go with the flow, and not show our heritage too much because there was always this question of 'are you here legally or you're not,'" recalled Morales. "You didn't want to feel like you're not supposed to be here so you just kind of fit in and you stayed away from anything that defined your culture or heritage."
But that was then and this now. Although discrimination still exists, today's young Hispanics are not afraid or a shame to stand up for themselves. "I am just incredibly proud of the fact that we live in a nation where we can be proud of where we come from and come together as a community," said Morales as she spoke about how loving and hard working Hispanics are and all the gifts they have to offer their communities. That, in essence, is why Hispanic Heritage Month is celebrated.
Houston is forever grateful for the all the contributions the Morales' family has made and continues to pour into the community. It's a legacy that started in the 1930s when Angela and Felix Morales made Houston their home and opened the first Mexican American owned funeral home in the city. Felix was one of five brothers who were all in the industry of burying the dead. Two of his siblings already owned funeral homes in other parts of Texas so Felix thought he would open one in Houston. Area Hispanics went from having their funerals handled in garages to a legitimate viable business.
Business was successful for the Morales and ushered in various milestones for the family. According to their website, the Morales were the first Hispanics to win a contract from the Harris County Commissioners Court to bury indigents. The first to open a cemetery for Hispanics and Angela Morales became one of the first Hispanic women in the county to receive a funeral director and embalming license.
Today, Angela and Felix's granddaughter Christina Morales operates the business as President and CEO of both the business and the Felix and Angela Morales Foundation. Growing up Christina admits she had interests in other areas but knew eventually her path would lead her to the family business. The native Houston started working in the funeral home industry when she was just a teenager after she was asked by her grandmother to come join the business. Christina said at the time she thought it was a good fit for her since both her parents had died. Her dad died when she was 11 and her mom passed when she was 15.