Food for Family Gatherings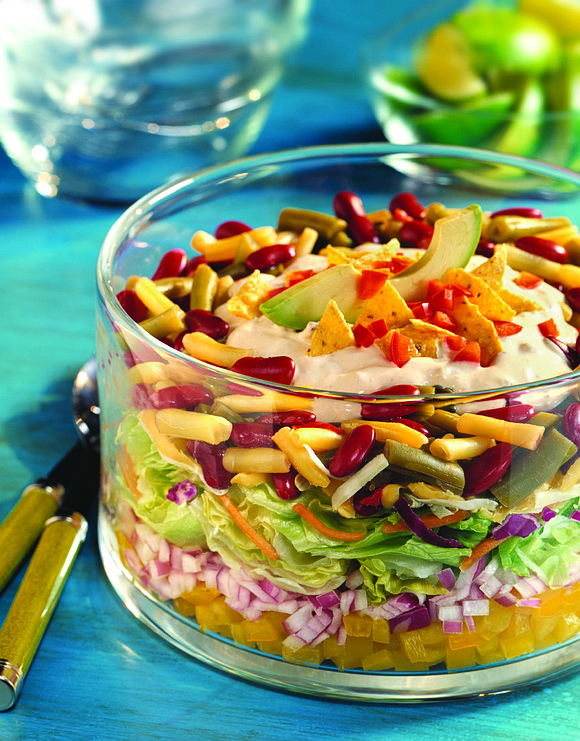 Family gatherings like reunions, picnics and potlucks can bring fun, the chance to reunite with family and, of course, food and celebration.
While catching up with family is most important for many, food typically comes in a close second. Tried-and-true favorites are welcome, but so are new additions.
This starter duo of Baked Onion, Goat Cheese and Sun-Dried Tomato Dip along with Orange Galette with Beet Gorgonzola Salad can get the celebration going.
To help mix things up, take a break from sandwiches. Chipotle Chicken and Bean Quinoa Salad Cups are a contemporary meal or snack alternative which kids and adults alike can enjoy. For a salad that feeds a crowd, try this Tex-Mex Layered Bean Salad, a tasty accompaniment for entrees from burgers to fried chicken.
For more recipes for family gatherings, visit READsalads.com and AuntNellies.com.
Chipotle Chicken and Bean Quinoa Salad Cups with Cilantro Lime Vinaigrette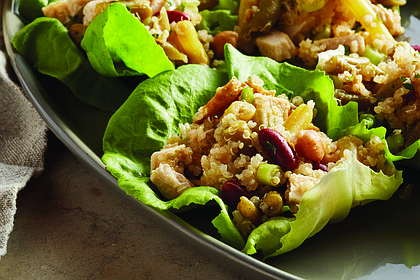 Prep time: 25 minutes
Servings: 4
1 can (15 ounces) READ 3 or 4 Bean Salad
Dressing:
2 tablespoons freshly squeezed lime juice
1 tablespoon adobo sauce
1 teaspoon Dijon mustard
1/4 teaspoon kosher salt
1/8 teaspoon black pepper
3 tablespoons olive oil
1/4 cup finely chopped fresh cilantro
1 1/2 cups cooked quinoa
1 cup diced chicken, cooked
1/4 cup finely sliced green onions
1 chipotle pepper, minced
4 leaves Bibb lettuce
Drain bean salad; reserve 2 tablespoons liquid.
To make dressing: In small bowl, whisk reserved liquid, lime juice, adobo sauce, mustard, salt and pepper. Whisk in oil until completely combined. Stir in cilantro; set aside.
In medium bowl, combine bean salad, quinoa, chicken, onions and chipotle pepper. Add dressing; toss gently.
Divide bean salad mixture equally among lettuce cups.
Orange Galette with Beet Gorgonzola Salad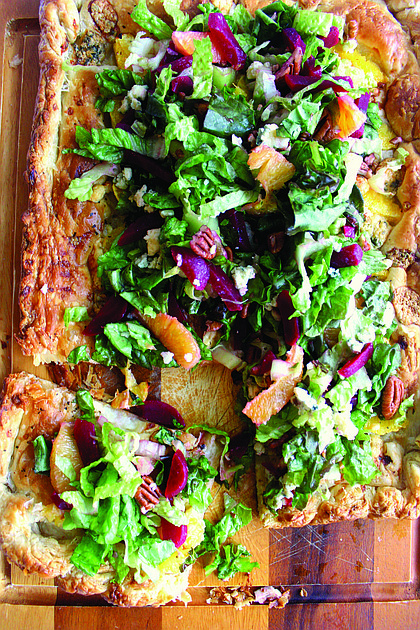 Recipe courtesy of Momma Cuisine
Prep time: 30 minutes
Cook time: 15-20 minutes
Servings: 12
1 jar (16 ounces) Aunt Nellie's Sliced Pickled Beets
nonstick cooking spray
1 sheet frozen puff pastry, approximately 16-by-11 inches
1 tablespoon olive oil, divided
4 navel oranges, segmented
4 ounces crumbled Gorgonzola or other blue cheese, divided
1/4 teaspoon kosher salt (optional)
1/4 teaspoon dried basil
2 cups mixed baby salad greens
1/4 cup chopped pecans, toasted if desired
Heat oven to 400 F.
Drain beets well; set aside on paper towels to absorb remaining liquid. Discard liquid or save for another use.
Spray large sheet pan with nonstick cooking spray. Gently place puff pastry sheet on pan. With pastry brush, gently spread 1/2 tablespoon olive oil on pastry sheet. Place about half the orange segments in two rows on top of pastry sheet, leaving 1-inch margins on all sides.
Fold edges of pastry sheet to create border. Sprinkle 2 ounces crumbled Gorgonzola over oranges. Sprinkle with salt, if desired, and basil.
Bake until golden brown, about 15-20 minutes. Remove from oven; cool on wire rack.
Coarsely chop beets. In large bowl, toss together remaining orange segments, salad greens and chopped beets. Drizzle with remaining olive oil; toss gently to combine.
Cut cooked galette into 12 pieces. Top with beet salad. Sprinkle with remaining cheese and pecans.