Volkswagen Passat GT: A New Version of Cool
What is cool is ever changing as it is defined by a generation. Trends in music, fashion, and language help to bring meaning to "being cool." Topping that list are cars, specifically sports cars. They are fast, fierce, and oh so fun to drive. Nothing could be cooler. For a week, I got to sit in the driver's seat of Volkswagen's sporty mid-size sedan, the 2018 Volkswagen Passat GT V6 and learned how it is a new version of cool.
Setting the cool factor for the Volkswagen Passat GT are the finer details. The red accent line running through the honeycomb grille, red painted brake calipers against the 19-inch Tornado wheels, glossy black accented spoiler and rooftop, turn its dial from being just cool to frigid. Creases in the hood, dual exhaust, and sport tuned suspension with lower ride height compliments its sports appeal while also giving it a stance of an arrogant look. Since this is the sportier version of the Passat, some features like Halogen fog lights, memory mirrors, rain sensor wipers, and some safety features are missing. Those, however, are available on the SEL Premium model.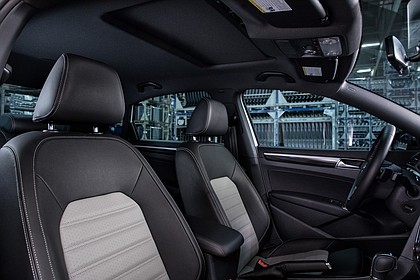 Inside the cabin, the Passat continues to showcase its sports side in design beginning with the striking two-tone comfort seats that can also be heated (something rarely needed in Texas). The 8-way power seats provide a decent amount of lumbar support. I like that even though this is a sports car and it has a low ride height you are not seating unusually low to the ground. Everything in the cabin is laid out well and positioned conveniently for access by the driver. The flat bottom leather wrapped steering wheel has controls for the radio, cruise control, multifunction display, and paddle shifters. Volkswagen keeps the glossy black/gray theme throughout the inside of the cabin as it accents the dash, center console, air vents, and glove box. I was surprised to see the ample storage space for odds and ends. There is space just to the left of the steering wheel, under the center console; each door has a wide side pocket and the glove box. Center console houses a 6.3 touchscreen for controlling, radio, media, phone, and voice. Bluetooth technology, Apple Car Play, Android Auto is definitely present. My only small gripe is that the screen could have a litter clearer view from the rearview camera. However, I did like how the camera lines turned as I turned the car. Charging anything won't be a problem in the Passat GT since it is equipped with 12 volts, USB, and auxiliary port.
The best thing about a sports car, at least to me, is the rumble from the start. I loved to hear that sound. It just gives off an 'I mean business' type of vibe. The Passat gives off a nice rumble. It is not too loud to cause a disturbance but loud enough for me to say "Oh yeah!" A 3.6L V6 direct injection engine producing 280 horsepower and 258 lb. feet of torque powered my test vehicle. EPA rating for fuel economy are 19-mpg city and 28-mpg highway. Another engine option is the 4-cylinder. The gas tank can hold 18.5 gallons and it goes a long way.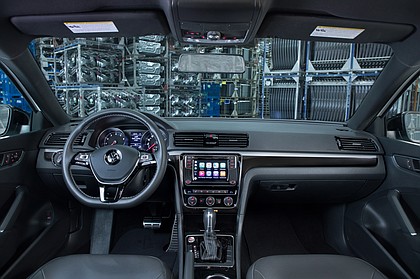 I was happy to take this sporty sedan on the streets of Houston to see how it rolled. I was extremely pleased with the ride of the vehicle. It was very smooth and took to turns and curves well. I felt very comfortable behind the wheel. Shifting was very responsive, even while using the shift paddles (which took some getting used to). Driving while in Drive mode is good for the weekday hustle and the Sports mode will allow its real calling to come out. None of my views were obstructed. Braking was very good. I know you are wondering how quick the Passat is since it is a sports car. It's a beast with a pickup that won't disappoint. The Passat can go 0-60 in 5.8 seconds.
The Passat comes in four exterior colors and I highly suggest pure white to showcase the red and black accents the best. Its starting price is just slightly over $30,000 and is worth every penny. The 2018 Volkswagen Passat GT is the perfect vehicle for every day and for those days when you want to walk on the wild side after the daily grind gets old. Whatever kind of day you are having the 2018 Volkswagen Passat GT can fit your mood because it is just that cool.