Alpha Kappa Alpha Sorority, Incorporated - Alpha Kappa Omega Chapter Kicks Off 90th Anniversary Celebration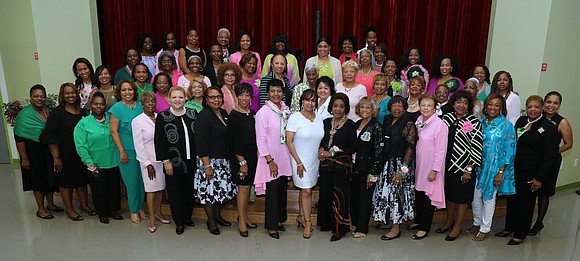 Alpha Kappa Alpha Sorority, Incorporated have been caretakers of their community. In the Houston area, the members of the Alpha Kappa Omega Chapter have been addressing the needs and issues of their surrounding area for 90 years making lasting impacts that affect the lives of individuals and families. Now the ladies are celebrating the legacy of their sisterhood and their service to Houston with a four-month celebration of activities leading to the grand finale, the 90th Anniversary Gala on December 15th. The first kick-off event was held at Peck Elementary in partnership with The Links Incorporated. The Literacy Book Drive and Reception was more about raising awareness about the importance of reading as all attendees were asked to bring books for students in grades Pre-K through 5th grade. The books will be distributed to several Houston ISD schools.
Some in attendance were chapter president Marsha Penn, chapter vice president Cherise Story, 90th Anniversary chairman Joyce Jacket, 90th Anniversary co-chairman Rhonda Wiley Keith, Barbara Fields, Jackie Wiley and Bettye Narrise, Alpha Kappa Alpha Sorority, Incorporated18th International President Dr. Mattelia Grays, Alpha Kappa Alpha Sorority, Incorporated 23rd South Central Regional Director Gwendolyn Brinkley, and HISD Interim Superintendent Dr. Grenita Lathan. Other organizations lending their support were the Top Ladies of Distinction, Incorporated, Jack and Jill, Incorporated, Delta Sigma Theta, Incorporated. Special thanks to Peck Elementary School Principal Carlotta Brown for hosting the event and Community Partnerships in the Houston area who served as an underwriter for the event.
The next event is a school supply drive and reception on October 5th at the Hattie Mae White Building. For more information or tickets visit alphakappaomega.com.