Texans Training Camp 19: Texans participate in joint practice with the Green Bay Packers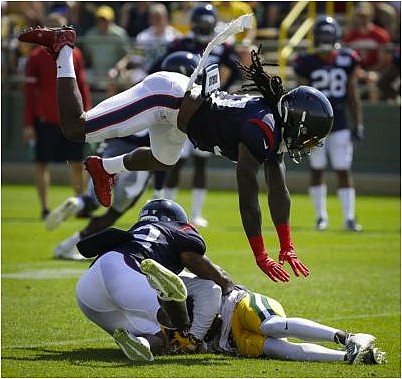 Green Bay, Wis. – The Houston Texans resumed training camp after having a day of rest and traveling to Green Bay to hold two joint practice sessions before the team's first preseason game on Thursday against the Packers. Here are a couple of takeaways from today's scrimmage:
1.Open Competition
After releasing backup running back D'Onta Foreman on Sunday, the Texans coaching staff are now focusing on the remaining backs in camp as head coach Bill O'Brien has made it perfectly clear that the backup spot is wide open for competition. It will be left up to veterans such as Taiwan Jones and Josh Ferguson to beat out a couple of the undrafted rookie free agents in Damarea Crockett and Karan Higdon. Both rookies had a solid performance today and will get a lot of reps now that Foreman is out of the picture.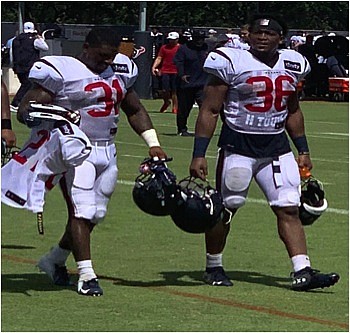 2. Tytus The Terror
A lot has been made of the Texans drafting offensive lineman Tytus Howard out of Alabama State in the first round of the 2019 NFL Draft. Most naysayers do not like the fact that he didn't play in a Power 5 conference, therefore the level of competition is not the same to them. Some might want to rethink that. In his first action against competition other than his teammates, Howard held his own. It was at his natural position of tackle that he displayed some of that quickness and agility that made him a first-round pick.
Howard was up against the Packers linebacker Kyler Fackrell and was able to contain every veteran move thrown at him. Fackrell, who according to Packerswire.com had the highest sack rate per 100 pass rushes at 4.7 in the NFL, and also finished the season with 10.5 sacks to lead all Green Bay pass rushers. Fackrell gave the rookie a fist bump on his way back to his huddle.
3. Lonnie Gets Sent to the Showers
Another rookie who is looking to impress the Texans coaching staff is second-round pick, Lonnie Johnson, Jr. out of Kentucky. Coach O'Brien sent Johnson to the showers early on what some Packers players are calling a dirty and unnecessary hit on Packers rookie tight end Jace Sternberger and another forceful hit that caused receiver/returner Trevor Davis out of practice for the rest of the afternoon. According to local Houston media that traveled to Wisconsin for the joint practices and preseason game, Johnson knocked Sternberger's helmet off after administering a huge hit. That caused a brief skirmish between the two teams that luckily didn't equate to any punches being thrown. Sternberger was taken off the field and evaluated for a concussion but was cleared to return to practice.
Fellow tight end and teammate Jimmy Graham did not like the hit on his rookie and let the media know about it after practice.
"That's absolutely ridiculous. And we are not going to stand for that here, obviously," said Graham. "I know his older guys over there are going to be on him about it because my young guys just running just running through a zone, obviously. Just run by him. We know you are going to blow him up in a game."
Coach O'Brien wasn't too pleased with Johnson's "Big" hits in a friendly joint practice with the Packers either.
"It's not a big deal, it's just a play that developed over there and it was time for Lonnie to head to the showers," added O'Brien.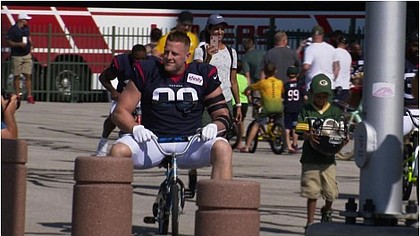 The Texans had a little fun before practice began as they participated in a Packers' training camp tradition in which the players ride children's bikes to the field. Texans All-Pro, J.J. Watt, who was returning to his home state of Wisconsin, did not fare well being on two-wheels.
"It was pretty awesome until I broke the bike," Watt said as the media burst into laughter. "The bike that I was using was not equipped for a 290-pound man, and the seat broke off. We have purchased a new bike for the boy. So, I apologize for that."