Texans Training Camp: Day 18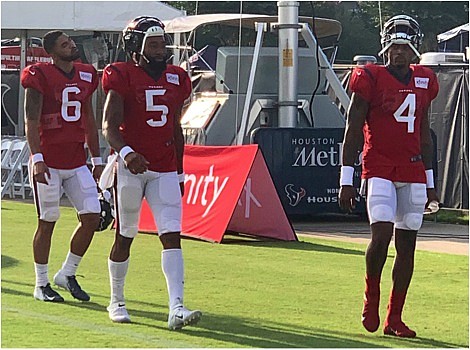 Houston, TX- The Texans resumed practice on Wednesday as they prepare for their third preseason game against the Dallas Cowboys in Arlington on Saturday. Here are a few observations.
The Duke
Newly acquired running back Duke Johnson has made his presence known the last two days of practice. Johnson's ability to catch out of the backfield will make him a very valuable asset to the Texans. He had 121 catches in his time with the Browns and Houston hopes he can duplicate the 74 he had his rookie season.
"He is a good addition to the team," said Texans head coach Bill O'Brien. He is good in the passing game, good runner, had some good plays on today."
Injury Bug
Even though the Texans coaching staff has done a very fine job of managing the practice and game reps for the veteran player, the injury bug keeps popping up. On today reserve offensive tackle David Steinmetz broke his right ankle and is out for the season. The team huddled up and prayed as they watched the second-year player out of Purdue laying on the field waiting on the cart to take him to seek medical attention. Steinmentz was looking to make the official roster this year after spending time on the practice squad last season.
Something Special
On last week I talked about how great punter Bryan Anger looked after hitting the top of the practice bubble four times. On today it was the kickoff return team's turn to show off. During the drills, that got a tad bit heated with some trash talk, the setup and execution on the returns looked good.
The Texans have one more practice before they head to Arlington to take on the Cowboys on Saturday.