Nola Natives Take Off in The Great Food Truck Race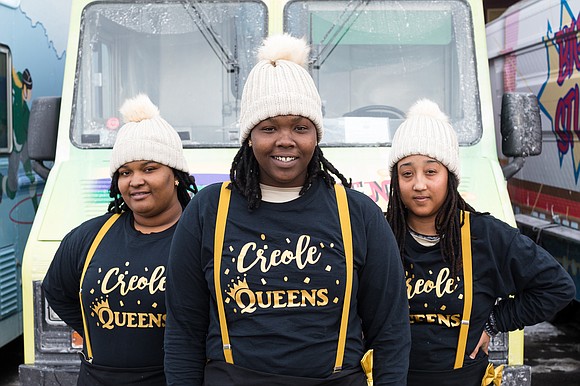 The holidays are here along with everything that ties the season together: food, family, work, and for some of us, Christmas shows on every TV channel. The Food Network is no different, especially when it comes to the holidays. This year, "The Great Food Truck Race" has a four-series holiday edition of the show called "The Great Food Truck Race-Holiday Hustle" that features five teams vying to grasp a $50,000.00 dollar prize.
Watch as the competitors "hit wintry New England locations in New Hampshire, Vermont, and Rhode Island for high-stakes food challenges that test their cooking chops, business skills, and selling strategies." The show's host Tyler Florence is leading the group through a series of cooking challenges where ultimately the last truck standing will win the grand prize.
Among the teams are Creole Queens: "married couple Raven and Tryshell Robertson and their friend Ariana Mitchell, who are originally from New Orleans. They are ready to bring the city's food and culture on the road. The trio runs a thriving catering business and teaches cooking classes NOLA-style from their new hometown in Texas and looks forward to sharing their creole-inspired dishes with food truck customers."

However, none of the ladies have any prior experience on a food truck and driving in snow. Raven was chosen to do the driving and said that she was "so nervous navigating the truck through the ice and the cold." Furthermore, the ladies stated that they really didn't know what to expect since none of them had ever visited the North East, previously. None the less, their food was well received by the crowds of people that stood in line and waited while they completed their preparations. The Creole Queens left a hefty impression on the masses with their chicken and sausage gumbo and crawfish etouffee'.

We had a warm phone visit with "The Queens of Nola" and all three: Tryshell, Ariana, and Raven expressed their heartfelt passion for the craft of creating and serving good food and each other.
They all put their words to action by leaving their jobs and putting their individual goals aside while participating in an endeavor that did not guarantee any compensation.
Let's cheer them on! Follow their social media pages: Facebook.com/CreoleQueensFoodTruck and Instagram.com/creolequeens3/.
Please continue to follow Team Style Magazine on Facebook, Twitter, and Instagram.