The Trifecta
Three Houston Texans selected for the 2020 NFL Pro Bowl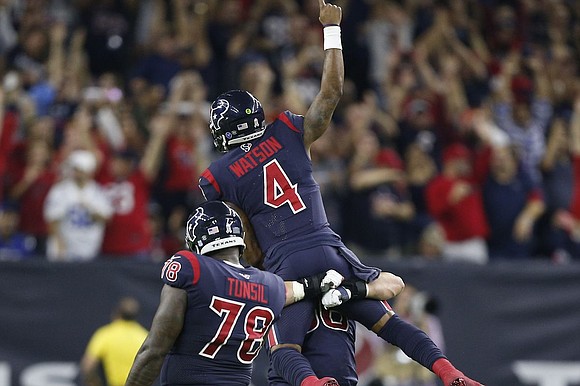 After it was all said and done, and the votes were tallied up. Three Houston Texans offensive weapons were selected to the 2020 NFL Pro Bowl. Quarterback Deshaun Watson, wide receiver DeAndre Hopkins, and left tackle Laremy Tunsil will represent the Texans in Orlando, Florida. This is the 16th-consecutive season that Houston has had at least one player selected.
Deshaun Watson is making his second consecutive Pro Bowl appearance. He was an alternate on last year's team but was voted to the first team this year. In a conference that has a plethora of good quarterbacks such as phenomenon Lamar Jackson (Ravens) and reigning NFL MVP Patrick Mahomes (Chiefs), Watson is putting up stats this season that has him in MVP talks with the aforementioned quarterbacks.
His numbers speak volumes (3,668 yards passing, 26 touchdowns, 11 interceptions), as he became the first player in NFL history to record consecutive seasons with at least 25 passing touchdowns and five rushing touchdowns. Many coaches around the league have taken notice of Watson since he entered the league.
"He's just amazing," said Tampa Bay Buccaneers head coach Bruce Arian when describing Watson. "He's one of my favorite players. Everything that he can do that's designed, but then when he gets into backyard football, he's the best there is I think right now."
There aren't too many accolades left to describe the things Texans wide receiver DeAndre Hopkins can do on the football field and his peers recognize that as well. Hopkins was selected to his fourth Pro Bowl and third consecutive as a starter. He leads the AFC in receptions (99) and receiving yards (1,142) while accounting for the 67 receiving first downs for Houston. "Mr. Reliable" has had 1,000 receiving yards for five out of his seven years in the NFL and became the second-youngest player in NFL history to reach 600 career catches and the third-youngest to reach 8,000 career receiving yards.
The Texans hit the jackpot right before the beginning of the 2019 season by landing offensive lineman Laremy Tunsil via trade with the Miami Dolphins. He has paid huge dividends this year by protecting the blindside of Watson and will make his first career appearance in the Pro Bowl. Set to become a free agent after this season, Tunsil will have a head coach and interim general manager Bill O' Brien going to owner Cal McNair for the checkbook. Houston is currently ranked seventh in the NFL in rushing yards per game at 130.9 thanks to Tunsil clearing a path for the Texans running backs.
"He's really athletic, he's got great feet, he's a physical player, he's got good length," Texans offensive coordinator Tim Kelly said at his press conference. "He's just really everything you're looking for in a left tackle."
Five Texans players were selected as alternates on Tuesday as well:
ILB Zach Cunningham
OLB Whitney Mercilus
NT D.J. Reader
C Nick Martin
LS Jon Weeks