Most Stylish Houstonians of 2019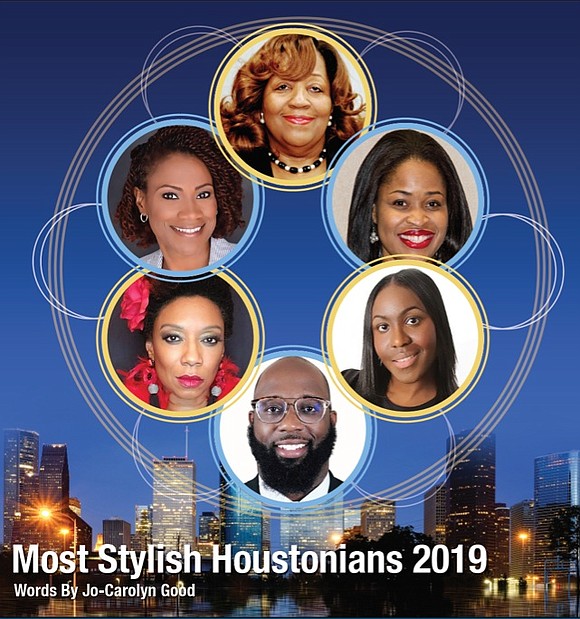 Houstonians are known throughout the world for their generosity and how they help their fellow man in a disaster. Rarely seen are the philanthropic efforts of Houstonians who just see a need and provide a solution. Those that excel professionally while still giving back in extraordinary ways are who we call most stylish.
Houston Style Magazine put out a call to find these special people. Nominations flooded our inboxes for the Most Stylish Houstonians of the Year. Houston Style Magazine wanted to feature those locals who make their world better through involvement in the community, outstanding achievement in their chosen field, and going above and beyond. With so many nominations, it was hard for our staff to narrow the field. The below mentioned individuals are just a few of the many Houstonians who daily give to the community to make it better today, tomorrow and in the future.
Patricia Ann Bourgeois
Patricia Ann Bourgeois has loved on Houstonians for the past 30 years in various ways, especially on the youth. Recently, she just completed a six-year term as an Aldine ISD trustee. During that time the former Board Secretary got to know the plight of students more personally by learning of their needs first hand. Because of that, she established the non-profit organization Groom-A-Kid in 2001. The Foundation hosts numerous programs for the benefits of students like the Reading Literacy Initiative where the goal was to better the reading level of students starting with third graders. One of the Foundation's annual events is outfitting high school seniors for their prom. In partnership with Al's Formal Wear-Deerbrook seniors are able to receive tuxedos rentals for free. Another big project that Bourgeois took on was helping families devastated by hurricane Dorian. With an event called Bahamas Sunday, Bourgeois through the Foundation collected grooming supplies, blankets, and clothes from Houston area churches and donated them to families. Bourgeois was also the Executive Director of the Dasha D. Blaylock Foundation and Southern Region Director of the National Black Council of School Board Members, a council of the National School Boards Association. Her granddaughter, Heaven Blaylock, describes her as an "amazing hearted, selfless, and generous person."
Cameron Campbell
Cameron Campbell is living out his childhood dream of leaving an impact on his community. He is fueling his dream through two different entities that he founded, Texas Athletics Construction (TAC), a sports construction company, and Coach Cam Cares (CCC), a nonprofit organization. A large percentage of the profits from TAC go towards the initiatives provided by CCC and other charities. Under the umbrella of CCC, the organization hosts a turkey drive annually where they have fed over 3,000 families to date. Another program is Christmas Wishes that grants the needs of underserved families. This year the organization partnered with Peck Elementary to provide Christmas Wishes for three different families; nine students received items from their list and a surprise bicycle. CCC has also has given over $3,000 in scholarships to Houston students who are the first in their family to go to college. In 2019, Campbell launched a new program through his nonprofit to provide gently worn and reconditioned dresses for students to go to prom. Campbell cares for Houstonian and his actions are evident of that love.
Shar-day Campbell
If her name sounds familiar, there is a reason for that. Shar-day Campbell is a vital part of The Honey Brown Hope Foundation, a 501c3 nonprofit founded by her mother, Tammie Lang Campbell. With her mother, Campbell has helped to transforms communities through the advancement of civil rights advocacy, diversity appreciation, and environmental stewardship. Several elected officials, national communications organizations, YMCA of Houston and HESP Union, have recognized her work and dedication to service. Professionally, she works at Houston Community College creating content that helps demystify the financial aid process for students. The highly sought after presenter organizes signature initiatives like #HoustonMoneyMoves Scholarship Contest and #FinancialAidFridays social media series that have helped her earn the HCC Chancellor's Excellence, Houston Money Week Innovation and Telly Awards. She further helps college students afford and complete college as a #RealCollege Affiliate with the Hope Center for College, Community, and Justice led by Dr. Sara Goldrick-Rab. Through education, innovation, and collective action, the #RealCollege movement seeks to change the landscape of higher education so that all students can afford and complete their studies. Campbell is an award-winning communicator and certified social media expert whose gift for storytelling led her to a career in communications, television and public affairs.
Tiffannie Jones
Tiffannie Jones started out just wanting to send her cousins and few co-workers' children to college on a good foot. She created a care package full of snacks, school supplies, and other necessities. That good deed sparked the founding of The Just College Students Project in 2014 that went from helping five students to 3,000 to date. JCS has a mission of providing the needs for students as they transition from high school to college making a difference, one college student at a time. Jones hosts annual events such as A Different World Scholarship Breakfast featuring actress Charnele Brown and Back2School College Drive. Every year at least ten college students are given scholarships from the profits of the scholarship breakfast. Representatives of JCS with Jones also go on an annual campus tour to colleges in Texas, Louisiana, and Mississippi dropping off free college care packages along the way. JCS has student ambassadors at various campuses that help execute the mission of JCS. As the years go by the college care packages get larger and larger due to the generous donations from sponsors. The single mother of two also gets her children in setting college students up for their future by having them pass out care packages on campuses. She has received numerous awards for her work including the Whataburger Hometown Hero. Jones, who never attended college herself, feels like providing for students is her responsibility.
Jalene Mack
Jalene Mack is an entertainment attorney, actress, producer, playwright, author, wife, and mother. However to those who have dreams of careers in entertainment she is a future maker. The next star from Houston may have Jalene Mack to thank for their rise to stardom. Mack is using her passion for the entertainment industry to develop the talents of future actors, writers, and producers. She is nurturing their talent just like her's was In 2011, she started Mack Performing Arts Collective, Inc. Through the 501© nonprofit Mack hosts workshops on acting, writing, and producing with those from the industry with celebrity instructors like Joey Wells, Kim Fields, Faizon Love, Chris Spencer, Roland Martin, Kym Whitley, Sherri Shepherd, Golden Brooks, Malik Yoba, Wendy Raquel Robinson, Gary Owen, and Guy Torry. Furthermore, she is able to provide scholarships to high school interested in careers in entertainment. Beyond bringing Hollywood to Houston, Mack is also lending her expertise to TAVA Cares, Inc. as Executive Director. TAVA provides financial assistance and resources to women diagnosed with breast cancer, caregivers, and family members. Mack's philanthropic efforts have a legacy effect that will be played out through future generations. She has a plethora of awards for her work including the President Barack Lifetime Achievement Award.
Kelley Taylor
Using the words of Troi Taylor, take a glimpse at his phenomenal wife, Kelley Taylor. Together the pair established Taylor Construction Management to provide customers with quality standards, relentless commitment, and fast completion rates at the lowest cost. TCM is a global project support services firm that manages more than $1B USD in capital projects in Houston alone and even more in Mainland China. But that is not what makes her fabulous her benevolence does. Taylor understands that she is richly blessed, not just with money or material things but also with life itself. She chooses to share those blessings with students to further their educational pursuits with higher education. Taylor annually sponsors students in countless ways. Some of those sponsorships were providing prom fees for 10 high school seniors at Madison High School and coordinating a financial literacy seminar for students at Texas Southern University. And that's not all. Taylor also sponsored five students from Willowridge High School to attend the Women in Business Seminar. Annually, Taylor provides gift packages for the homeless in Downtown Houston that includes toiletries, food, and $20 for miscellaneous needs for up to 100-individuals. Taylor does all of this on her dime.
Congratulations to this year's top six Most Stylish Houstonians. Follow their lead and do something to help your fellow. No one can survive this life alone. Having a helping hand can be the one push a person needs to change their life. Who will be the 2020 Most Stylish Houstonians? Start spotting your nominations now and take notes throughout the year. Happy 2020!