Fredericksburg, TX: Texas at Heart with German Soul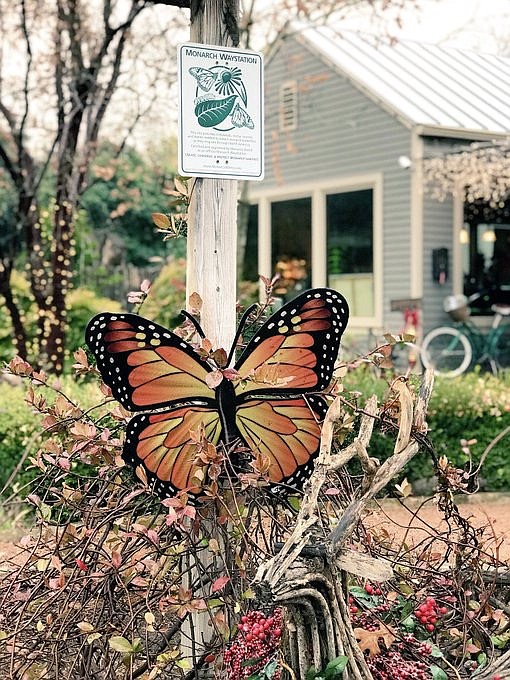 Tucked away in the heart of Texas and off of Wine Road 290 is a hidden gem that exudes the rich German culture and all that it embodies. Founded in the mid-1800s by German settlers, Fredericksburg, Texas is a small town with a big personality. Add in wineries, shopping, craft breweries, and beautiful scenery and you will undoubtedly have yourself a fabulous vacation destination. It does not take much work to step back into history here. From the moment you drive into town, you will notice a sprinkling of historical markers and attractions and not to mention the eclectic architecture and original Main Street buildings. Join me as I #VisitFredericksburg and explore all it has to offer.
The Accommodations:
The Hangar Hotel
Have you ever lodged on an Airport Airstrip? Sounds crazy right? But, in Fredericksburg, TX it is possible! The Hangar Hotel is located roughly two miles away from the popular Main St. strip. Built brand new, the hotel was uniquely designed with an exterior appearance of a 1940's WWII hangar. The hotel itself is enough to make you wonder what it was like back in the good 'ole days. Upon entering the lobby you are taken back to an era of aviation at it's finest. As its name implies, it looks like a large airplane hangar but when you get inside of your room a feeling of comfort and luxury overwhelms you.
During your stay make your way to The Officers' Club in the lobby for a memorable evening out. There is not a better place to relax and enjoy a cocktail while lounging in the soft leather furniture around the mahogany and granite fireplace. If you are lucky you may even catch a pianist on the grand piano providing tunes throughout the evening while you partake in a game of chess.
The Officers' Club - The Hangar Hotel
The Airport Diner is truly nostalgic. Imagine seeing planes land as you have breakfast or lunch! It is literally like a landing strip for airplanes. But there is more if you were unaware of what is behind the diner you are in for a treat! The Airport Diner is part of The Hangar Hotel Conference Center, which includes a one-of-a-kind dance floor, bar, and an oasis, that can be sure to get any party started.
Small Town Adventures:
There is no such thing as "Nothing to Do" in Fredericksburg, TX. Maximize your days with an itinerary that is sure to keep you busy. From winery tours down the Wine Road to history lesson at the Pacific World War Museum, there is something for each traveling enthusiast in this Hill Country German Town.
Jump right into your visit by starting with a trip down 'History Lane' at the Pioneer Museum. This unique museum is spread out over four acres that highlight German structures, artifacts and a blacksmith shop among other 19th-century styled exhibits. Here you can experience the rich German heritage of Gillespie County and how it all started.
Next, make your way to the National Museum of the Pacific War that is truly unlike any US History Museum that I have ever experienced. Once inside you are taken on a journey that is centered on the story of the Americans who forged a road to Tokyo through courage, ingenuity, and sacrifice, and ended the war, at last. With heirlooms from all around the world, the Pacific World War Museum is designed to give you the feeling of confusion as if you are centered in a war. Here you can truly walk in the everlasting footsteps of the servicemen who gave it all for victory.
The National Museum of the Pacific War
After a long day of history lessons, indulge in some Texan hospitality with Fredericksburg's Wine Trail. Reminiscent of the wine growing regions of central Italy or the wine regions in France, the Fredericksburg Wine Road 290 is like a never ending stretch of Texas wineries. With tons of wineries popping up in the area in the last decade or so, visitor traffic is on an increase to sample all the varieties of wine. A recent poll by the travel Web site Orbitz.com found that the Hill Country is the nation's second-fastest-growing wine destination, behind only California's Napa Valley. Each stop on Wine Road 290 makes you feel like having a drink with an old friend. The wine, ambiance, and experience at each winery are unique and afford visitors a perfect wine getaway.
If shopping is your calling, you are in for a treat! With over 150 shops and boutiques offering items that are uniquely Texas, there is no denying that shopping remains one of the primary attractions in Fredericksburg. During my visit, I got to check out some specialty shops ranging from clothing, upscale home accessories, and furnishings to unique collectibles, antiques and more. The majority of the shops are concentrated on and off of Main Street in the seven-block area. Two of my favorites were Gathered & Good and Blackchalk Home and Laundry. Both shops offered unique antiques and interior designs as well as custom craftsmen pieces perfect for any home.
A Culinary Experience:
Any meal in Fredericksburg is like a delve into the culinary world of authentic, delicious, and the inspiring foods that will find visitors taste buds tingling with each fork full bite of goodness. From authentic German entrees to traditional slow smoked BBQ, the variety of edibles found in and around Fredericksburg is astounding. With culinary flavors from here and there, I found that the sophisticating level of preparations found at various restaurants was nothing short of remarkable.
Eating the food is great but even better is learning to cook it to take the experience home. You can learn to cook while tasting your creation and laughing with the chef at Fischer & Wieser Culinary Adventure. The new Fischer & Wieser's Culinary Adventure Cooking School will have you thinking that you are part German once your education is complete. While visiting, I discovered the culture of Fredericksburg with an authentic German Menu that included Currywurst, Jaegerschnitzel, Rotkohl, Kaese Spaetzle, and Flamed Apples all paired with dinner wines from the surrounding Hill Country.
Fischer & Wieser Culinary Adventure
If you prefer a more conventional restaurant, I would highly recommend the Navajo Grill. Described as a refined Southern cuisine restaurant with a long wine list in an elegant setting and inviting outdoor patio, Navajo Grill stood out to me because of their delicious food and great customer service. Located on the popular Main St., the restaurant welcomes you warmly with a melding of modern and southwestern design elements. The menu is composed of a variety of dishes made from locally sourced foods. Their specialties are served with house-made sauces and dressings.
I highly suggest that you pair your meal with a wine from the extensive wine list or an original cocktail. If you would like something a little less formal, step outside and enjoy a relaxed dinner menu on the rustic limestone patio.
Navajo Grill
The LBJ Ranch:
For the longest, I have always wanted to visit The Lyndon B. Johnson Ranch and National Historical Park in the Hill Country. The park protects the birthplace, home, ranch, and final resting place of Lyndon B. Johnson, the 36th President of the United States. Upon arriving at the National Park I was overwhelmed with the thought that this was where a President of United States was born, raised, spent the majority of his presidency and died. With tons of artifacts and photos, it was unreal at how preserved the park was; being able to place the photos in the same location they were taken. A trip to the Hill Country would not be complete without a visit to the home of its most resident.
I particularly enjoyed the astronaut's signatures in concrete and the LBJ Air Force One plane. No matter what your political persuasion happens to be, it is an interesting glimpse into a time gone by and one of the 20th century's central and most colorful characters.
The Lyndon B. Johnson Ranch and National Historical Park
On A Personal Note:
Overall, I thoroughly enjoyed the town of Fredericksburg, TX. The people were very nice and filled with hospitality. It felt like a place where anyone could take a deep breath, let go and just relax. Fredericksburg is a small city with lots of German flavor with its boutiques, generations-old peach orchards, restaurants, shops, wineries and more. You can do just about anything in this quaint town.
Special thanks to Eva Simpson and Debbie Geiger of Geiger & Associates Public Relations, Inc. for organizing such a well thought out travel experience. Also, thank you to Sean Doerre, Communications Associate of The Fredericksburg Convention and Visitor Bureau for going over and beyond with the accommodations during our stay. Last but certainly not least, thank you to the many restaurants, wineries, tour guides, owners, and welcoming citizens of Fredericksburg, Texas for their warm, Hill Country welcome.
For more information, visit visitfredericksburgtx.com.