Burgers and Brew: The Perfect Pair at Hopdoddy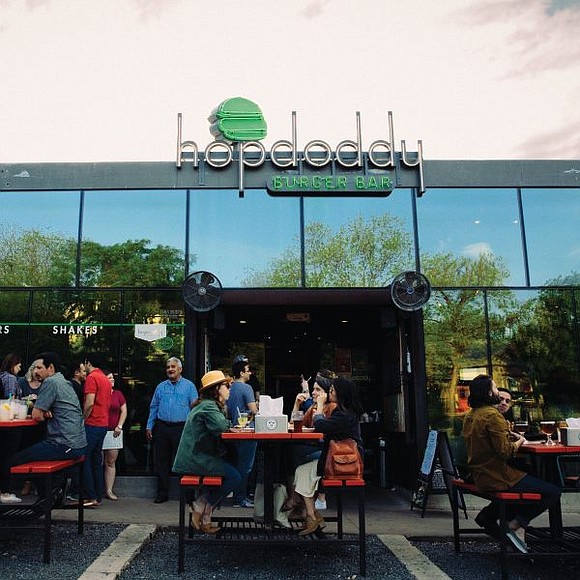 How do you take the everyday burger and make it better? Start with fresh ingredients, homemade buns, farm-raised beef, and a creative mind to think of something different. And there you have Hopdoddy, an Austin based burger bar that is taking burgers to the next level.
Established in 2010 in Austin, Texas, "hop" refers to the bitter plant used in beer and "doddy" is the nickname for a type of cow. When burgers and beer is your signature, Hopdoddy has to be your name. The menu offers 13 signature burgers with meat that they butcher and grind daily on buns that are baked fresh every day. Burgers range in price from $9 to $13.
I got the opportunity to have the Hopdoddy experience at their newest location in Webster, Texas. The burger joint had a laid back, lively kind of atmosphere. From Willie Nelson and other music artists hanging on the walls to the melodic sounds filling the space, music is clearly a big part of the Hopdoddy culture. Second to that is the importance of beer. The bar is the hub of all the action and located smack dab in the center of the restaurant. Surrounding that is an array of brightly colored chairs and tables with booths flanking the outside. Another good focal point is the open kitchen where diners can see part of the food preparation.
Diners coming in need to just pick their spot and begin the hard task of deciding what to eat. Perusing the menu sent my taste buds in a spin as I imaged how each scrumptious dish would taste in my mouth. There were Angus beef burgers topped with ingredients like Applewood Bacon, Tillamook Cheddar Cheese, Basil Pesto, Chipotle Aioli and Caffeinated BBQ. Non-beef eaters will enjoy chicken, turkey, tuna, vegan or a black bean & corn patty options. Plus, there are salads, sides, and shakes. There is something for every palate.

With so many options, making a decision was super hard so I allowed the public relations team to guide me. Since I don't eat red meat, they suggested I try the Thunderbird, Ahi Tuna, and the Brew Burger. Yes, that's three burgers. Don't judge me. My friend, who is a beef eater, opted for the Primetime and Goodnight/ Good Cause Burger. We were kind of hungry.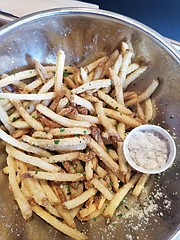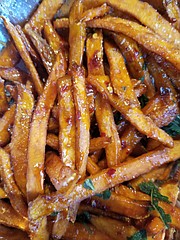 Before I tell you about the burgers, let talk potatoes, fries that is. Most burger joints will have fries and maybe fries topped with chili and cheese. That's typical. Being typical is not the Hopdoddy's style. Your taste buds are stretched here. Fries options include regular potato or sweet potato. Now for the toppings. How about fries topped with Honey, Sage, Truffle Oil, Green Chile, and Buffalo Sauce. When I say the Hot Honey and Sage sweet potato fries are the business...oh so good. Be prepared for the kick though. These fries combined spice with that perfect hint of sweet that blends so well with sweet potatoes. Now while I was a huge fan of the above, my friend was a bigger fan of the Parmesan Truffle Fries. She loved the Kennebec fries that were sprinkled with Parmesan Cheese and Parsley and came with Aioli for dipping. The fries came highly recommended and they are a must try. Both make you hate to wipe your fingers on a napkin (since it is bad manners to lick your finger but you will want too). A good thing about these fries is that they are on their shareable menu. Yes, you don't have to be a pig by yourself because yes, they are that good. Besides the above mention, other options that are equally as savoring are the Green Chile Queso Fries, Chili Cheese Fries, and Buffalo Fries.