Strong Case
Harden Pours In a Season High 57 Points Against the Grizzlies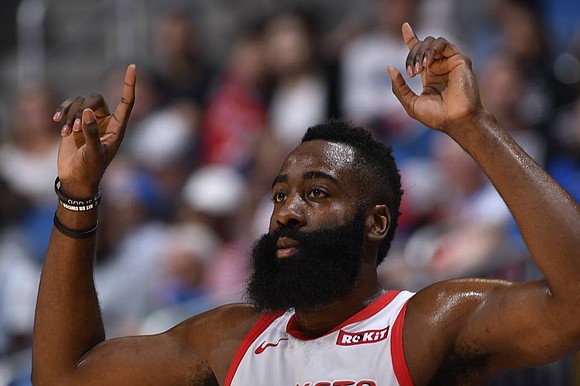 The 2018-19 NBA season has started off with a bang, but no louder sound can be heard than that of starting shooting guard for the Houston Rockets, James Harden. Yes, I know that there has been plenty of stories and news articles about the phenomenal season he is having, yet it is nothing like witnessing it firsthand. As I sat on press row at the Toyota Center on Monday night when the Rockets defeated the Memphis Grizzlies 112-94, I was in amazement of what I was seeing. Yes, I have watched basketball for many years and have seen the greats like Michael Jordan, Kobe Bryant, Hakeem Olajuwon, LeBron James, etc. But James Harden is by far the best pure scorer ever. That's right I said EVER!
Harden scored a season best 57 points against the Grizzlies and had 36 points by halftime. The NBA scoring leader shot 17-of-33 overall, 6-of-15 from 3-point range and 17-of-18 from the foul line in just 34 minutes of action. Even his head coach Mike D'Antoni was amazed but not surprised by Harden's accomplishment.
"What he just did, we kind of take it for granted a little bit," said D'Antoni. "It's like, 'Oh, look at that, isn't that cute? It's 57!' I mean, on dead legs and he played 43 minutes last night. It's beyond impressive. It's rare that people can do what he's done if anybody."
The feat also came on a night when the Rockets were told that they would be without starting center Clint Capela for four to six weeks with a thumb injury. That is in addition to Chris Paul (hamstring) and Eric Gordon (knee) already being sidelined since last month.
"Obviously, Chris is already out, Eric has been out, so we had to rally the guys and get a win. It was huge for us," Harden said after the game.
The reigning MVP also recorded his 17th consecutive game scoring at least 30 points in a game. There have only been three other players to have such a streak (Kobe Bryant, Kareem Abdul-Jabbar, and Wilt Chamberlain). If Harden continues on this pace, he will break Wilt Chamberlain's streak of 20 straight 30-plus-point games set back in 1964. This was also his third time going for over 50-points this season and 12th time in his career.
"At halftime, I looked at our box score and it was disgusting, he had 90% of our points. It is impressive to see a guy go 1-17 from the 3-point range a night before against Orlando and play this game like he was 17 for 17. Guys like him are who they are for a reason," said newly acquired point guard Austin Rivers about Harden.
Monday was also a special night for coach Mike D'Antoni. He recorded his 600th win but was very humble in the press conference afterward giving a lot of credit to the Rockets players and organization.
"It just means I am older than dirt," said D'Antoni. "It has been an honor to coach the guys I have coached, but they (Rockets) have given me the majority of my wins by just walking into that locker room so I really appreciate these guys," he continued to tell the media in his press conference.