Houston's Own Chandler Foreman Is Miss Texas 2019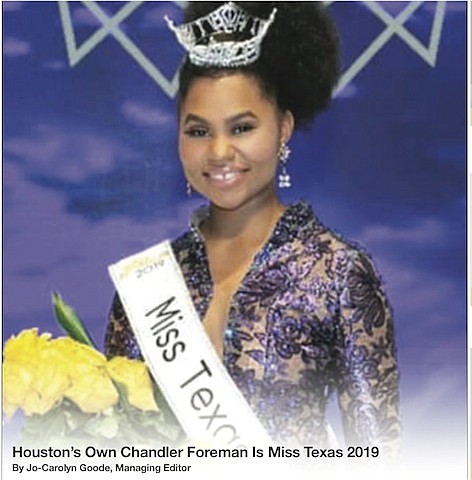 A win for the US is how Miss Texas 2019 Chandler Foreman describes her historic crowning as the first reigning queen of the Miss America system to wear the crown with natural hair. For years beauty queens were put in a box to be thought of as thin, with straight long blonde hair and blue eyes. That was America's definition of beauty. So constricted! Beauty, as we all know, comes in many shades, shapes, and can't be boxed. Finally, America is getting the picture with the wave of new queens that really look like the makeup of the country from the lightest to the darkest of hues to the straightest to the curliest of hair to the skinny to the thicker than a snicker body, all women are beautiful.
"It's empowering yes, yet the fact that it is uncommon to see black women be the representative for such a prestigious title proves that there is still work to be done. I'm happy that we are widening our range of beauty and most importantly prove that excellence comes in all colors," said the newly crowned Miss Texas 2019 Chandler Foreman. "Young girls who look like me need to see various women of color in these positions so that they are determined to achieve the things they put their mind to."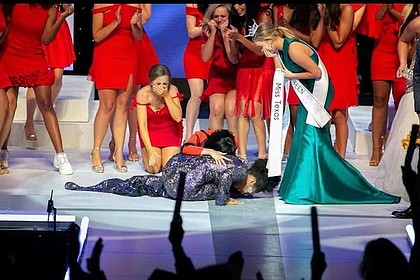 Chandler is not short on her determination as it took years for her to live in the moment she now finds herself. First introduce to pageantry by her mother, Courtenay Foreman, Chandler's first pageant was the Miss Black Texas Talented Teen Pageant under the direction of Candace Cooper and JC Goode. Young and inexperienced in the field, Chandler's bubbly personality and amazing talent won the judges over and she was named Miss Black Texas Talented Teen 2013. She then went on to the national pageant Miss Black Talented Teen Pageant where she was named 2nd runner up.
"I am so grateful to the Miss Black Texas USA pageant system for exposing me to service at such a young age and for giving me a voice. My directors knew the importance of young black leadership and community involvement and would essentially ignite my passion for people," recalled Chandler.
Knowing her purpose to inspire people made joining the Miss America Organization a clear choice for her. "I knew the Miss America.Org (MAO) would allow me to tackle my mission on a bigger platform."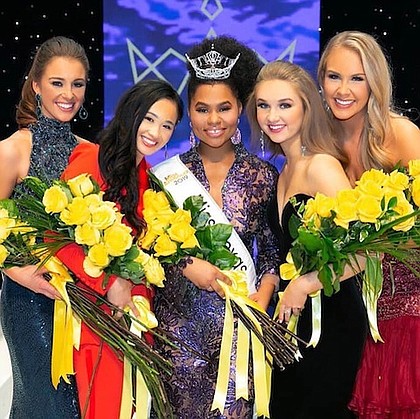 During her first year with MAO as a teen, Chandler placed 2nd runner up. The placement devastated her because she wanted so badly to represent Texas on the national stage. She began to question her performance and what she could have done differently totally missing everything she had gained from the experience which was confidence in herself and an amazing sisterhood of supportive girls and women.
As she kept competing year after year with MAO Chandler learned to be selfless. "You cannot take on this job with a mindset and heart of solely self-satisfaction. God's will for any of us is to be the salt of the earth, to be like He is, giving, caring, sharing. None of those entail being selfish and I'm so grateful that I was able to let go of that sin of being "selfish" at the age of 16."