Houston's Own Chandler Foreman Is Miss Texas 2019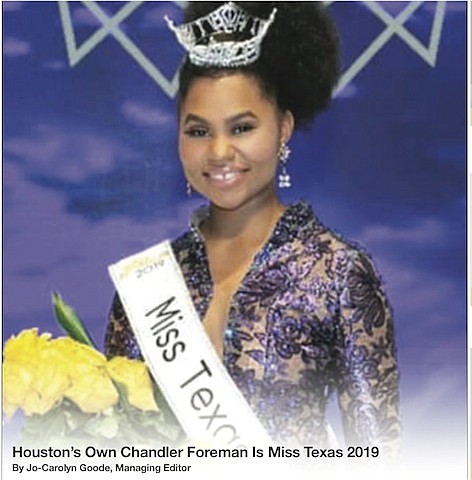 A win for the US is how Miss Texas 2019 Chandler Foreman describes her historic crowning as the first reigning queen of the Miss America system to wear the crown with natural hair. For years beauty queens were put in a box to be thought of as thin, with straight long blonde hair and blue eyes. That was America's definition of beauty. So constricted! Beauty, as we all know, comes in many shades, shapes, and can't be boxed. Finally, America is getting the picture with the wave of new queens that really look like the makeup of the country from the lightest to the darkest of hues to the straightest to the curliest of hair to the skinny to the thicker than a snicker body, all women are beautiful.
"It's empowering yes, yet the fact that it is uncommon to see black women be the representative for such a prestigious title proves that there is still work to be done. I'm happy that we are widening our range of beauty and most importantly prove that excellence comes in all colors," said the newly crowned Miss Texas 2019 Chandler Foreman. "Young girls who look like me need to see various women of color in these positions so that they are determined to achieve the things they put their mind to."
Chandler is not short on her determination as it took years for her to live in the moment she now finds herself. First introduce to pageantry by her mother, Courtenay Foreman, Chandler's first pageant was the Miss Black Texas Talented Teen Pageant under the direction of Candace Cooper and JC Goode. Young and inexperienced in the field, Chandler's bubbly personality and amazing talent won the judges over and she was named Miss Black Texas Talented Teen 2013. She then went on to the national pageant Miss Black Talented Teen Pageant where she was named 2nd runner up.
"I am so grateful to the Miss Black Texas USA pageant system for exposing me to service at such a young age and for giving me a voice. My directors knew the importance of young black leadership and community involvement and would essentially ignite my passion for people," recalled Chandler.
Knowing her purpose to inspire people made joining the Miss America Organization a clear choice for her. "I knew the Miss America.Org (MAO) would allow me to tackle my mission on a bigger platform."
During her first year with MAO as a teen, Chandler placed 2nd runner up. The placement devastated her because she wanted so badly to represent Texas on the national stage. She began to question her performance and what she could have done differently totally missing everything she had gained from the experience which was confidence in herself and an amazing sisterhood of supportive girls and women.
As she kept competing year after year with MAO Chandler learned to be selfless. "You cannot take on this job with a mindset and heart of solely self-satisfaction. God's will for any of us is to be the salt of the earth, to be like He is, giving, caring, sharing. None of those entail being selfish and I'm so grateful that I was able to let go of that sin of being "selfish" at the age of 16."
The act of being selfless is just one of many lessons that she passes on to young girls, especially to those she mentors through the MAO's Lone Star Princess program. Chandler said its purpose coincides with her "why." "It introduces two of the four points of the crown, sisterhood, and success, to our little ones. From ages 5-12, girls are mentored by their local titleholder, spend a week with other princesses and get to witness each titleholder compete on the Miss Texas stage."
In Chandler's case, her little princesses got to see her not just compete but win. Beating out a field of 47 beauties from across Texas, Chandler won the overall title plus was the overall talent and interview winner. The trained flutist, who first played the violin, played a medley of "Theme from 'Mahogany' (Do You Know Where You're Going To?)" and "Ain't No Mountain High Enough."
A month after her crowning, Chandler still has to pinch herself and can't believe that she is Miss Texas 2019. "That was the first time I experienced an overwhelming amount of emotions at once that the only thing left for me to do was fall," she said recalling the moment she knew she had won the coveted title. "I kept thanking God, I thought of my mother & Godmother who tirelessly invested in me, my city Houston, Texas, my girl gang KweentoQueen and all of the things I want to accomplish in just 365 days."
She didn't have much time to dwell on what her yearlong reign would be like as she had to immediately shift her focus from the future to the right now. "The job quickly started when I had a makeup appointment at 2 A.M. and a photoshoot that ended at 5 A.M.," said Chandler. Since then she has been on a nonstop schedule full of interviews and appearances while she trying to get ready for another year of college at the University of North Texas.

As the new Miss Texas, Chandler received a $20,000 cash scholarship, a QX60 Infiniti, appearance wardrobe and more. Over the course of time with MAO, Chandler has racked up $40,000 in scholarship. That money coupled with prize money from her previous pageant will allow the college coed to graduate debt free and even go on to get her master's degree debt free. What a blessing!
While serving as an ambassador for MAO's programs and mission, Chandler also hopes to grow her KweentoQueen program that she started with her sister, Klarke. The pair hopes to expand the mentoring program for young girls into schools throughout Texas.
Chandler feels extremely grateful to have had great mentors in life. Starting with her first mentors, her parents, Dexter and Courtenay Foreman, followed by her partners in crime, her siblings Klarke and Dexter Forman Jr. Without their love and support with her faith in God, Chandler says she would never have achieved as much as she has in life.
"My parents did an awesome job establishing the importance of support and encouragement from family. " Chandler continued, "Kids need to know that they are supported by their loved ones because that is what keeps us motivated. That's what reassures us that we are loved."
The foundation her parents built in Chandler has made her purpose clear and she feels that it is her duty to connect, share stories with, and uplift people. Comfortable in the skin she is in with her distinctive features of a gap in her teeth, thick eyebrows, curves, and poofy hair; Chandler believes God is using her g.a.p. to stand for "God's Anointed Purpose" where she is using her gifts to bridge the gaps in our society.
Chandler Foreman is one remarkable young lady that is a wonderful representative for Texas and young girls of all ethnicities. Her next step is to get ready for Miss America 2020. The official pageant dates and location have not been announced yet. Pageant watcher can stay in the know by following Chandler's journey on Instagram @missamericatx and her personal page @Queenchandler.
Good luck at Miss America 2020 Chandler!