Texans Training Camp 2019 – Day 6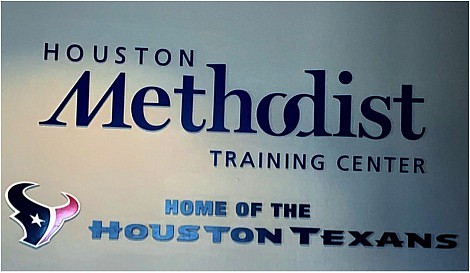 Houston - The Texans returned to the practice field on Wednesday after a much-needed day off. Although the players were happy to be off, you could also tell that they missed being in pads as the practice bubble at the Methodist training facility was buzzing before the media was fully able to get inside. Here are a couple of takeaways from day 6 of Texans training camp.
Earning His Money
Defensive end Angelo Blackson gave the Texans coaching staff a glimpse of what he is capable of doing this season. During the goal-line drill portion of practice that had both the offensive and defensive players fired up, Blackson shoved off a would-be blocker and met running back D'Onta Foreman in the backfield for a loss of two yards. The five-year veteran who was acquired from the New England Patriots practiced squad in 2017 signed a three-year $12 million contract back in March of this year.
The 12th Man
Rookie fullback Cullen Gillaspia is making his presence felt at training camp. The last selection in the 7th round out of Texas A&M has impressed the Texans on offense and special teams. Gillaspia has shown the staff that not only can he create running lanes for the backs, but also has a unique ability to catch the ball out of the backfield. That may be something that could work to the Texans advantage as the season progresses.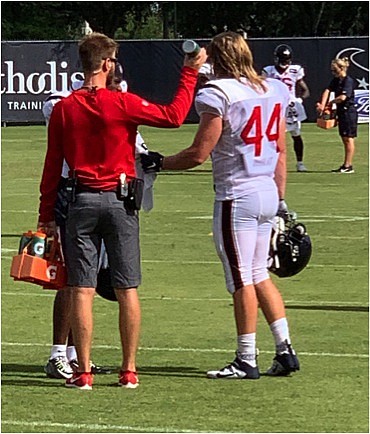 Goal-Line Stand
"It's very intense and fun," said head coach Bill O'Brien when answering a question from the media about the goal-line drills today.
He had every reason to be excited as both the offense and defense performed to high levels as if they were already in mid-season form. The last play of the drill had the defensive veterans hollering down the field as rookie nose tackle Javi Edwards from the University of Colorado made a tackle for loss to give the defense the edge. The Houston native (Aldine Davis) is doing everything he can to make the Texans 53-man roster.
Show Me
Rookie running back Damarea Crockett is use to having to show his worth on the football field. Crockett had a very impressive practice and displayed his talent that made him one of the stars at Missouri (the Show Me State). The Texans have a very crowded backfield which makes his chances of playing at that position very tough, but his special teams play has really stood out in camp.
"He runs hard," said coach O'Brien. "He is a great kid and works very hard on special teams. He has a very good attitude.