The Links of Pearland Celebrate Five Years of Service and Friendship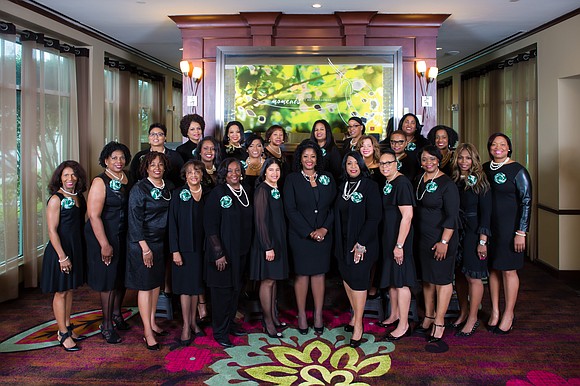 For 5-year-anniversaries the traditional gift is usually something made of wood or silver. Wood symbolizes strength and durability while silver symbolizes a close knit bond. Strength, durability and a close bond are excellent ways to describe the Greater Pearland Area Chapter of The Links, Inc. With commitment and compassion wrapped up in service and friendship, the ladies have been fulfilling their purpose and mission in Brazoria County for the past five years and they are ready to celebrate their efforts.
Emeralds and ice will fill the ballroom at Hotel ZaZa on June 23, 2019, when the ladies will commemorate their chapter's 5th anniversary with the theme "The Emeralds and Ice Gala." Since the ladies' heart for service is so deep they can never have an affair that simply celebrates themselves without adding an element of service. Hence, this affair is a double purpose party that is also a fundraiser for its scholarships and programs.
"During this black-tie affair, we will showcase our chapter's service initiatives, scholarship recipients and we will also feature local "Power Couples" that have made outstanding community service contributions in the following areas: The Arts; Health and Human Services; International Trends and Services; National Trends and Services and Services to Youth," said chapter president, Vanessa Carter.
Although the Pearland chapter has only been in existed for five years, the international organization as a whole has a far longer history. Established in 1946, the organization of accomplished women of color has always had a goal of providing service to people of African ancestry within their local communities and across the globe while being linked in friendship and connected in service.
Being linked is an intricate part for members Carter explained. " It is our likeminded goals and passions that keep us united as an unbreakable chain as we work together for the greater good of our communities and do so with a genuine affection for one another."
"The Links has been a leader and strong advocate for the advancement of African Americans in the areas of economics, education, and philanthropy. Each year our members of The Links collectively provides over 1 million documented hours of community service," stated Carter.
For the Greater Pearland Chapter that service has been rendered through programs focused on youth. Their inaugural program was designed to increase the interest of science technology, engineering, and mathematics in the minds of elementary and middle school students. The Smart STEMulation Academy has allowed the STEMulators (participating students) to be exposed to people like NASA Astronaut Stephanie Wilson; create a mobile app to help stop bullying, and visit places like Baylor College of Medicine, Ocean Star Offshore Drilling Rig, and Museum, and Baytown Nature Center. Now the program has expanded to include some new curriculum to spark students' interest in entrepreneurship. The "Be A BOSS: Business Opportunities for Student Success" program is implemented through a partnership with the Boys and Girls Club of America. According to Carter, activities that inspire curiosity, creativity, and collaboration, while teaching students how to think entrepreneurially, identify and anticipate diverse societal needs, and create products and services that fill those needs all help students craft a "winning mindset" to work hard in school now and in life later.
But that's not all these ladies of green are doing. They also are involved in programs that center on registering people to vote, human trafficking, and providing the personal needs for families in need that we often take for granted.
Their amazing work is creating the foundation for their legacy of service in Brazoria County to make their area a better place to work and live. Thus, their anniversary gala is just as much a community celebration as is a chapter celebration. Make plans to join them to toast the five years of the past and look to the future.
Carter commented, "It is our hope that the services and resources we are bringing to the community will foster growth and sustainability for years to come."
For more information or tickets, visit greaterpearlandarealinksinc.org.