Houston Spotlight: DeQuina Moore as Josephine Baker
DeQuina Moore Brings the Untold Josephine Baker Story to Houston's Ensemble Theatre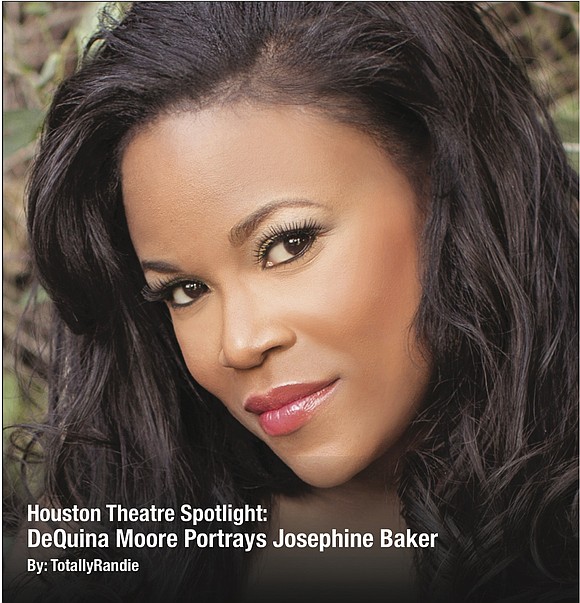 Other than her famous banana dress or Keri Hilson's performance in Pretty Girl Rock, today's younger generations may not know much about the multi-talented Josephine Baker. The fact that Baker spent her youth in poverty before learning how to dance and eventually discovering success on Broadway is definitely an accomplishment to marvel over.
And now thanks to native Houstonian DeQuina Moore, multi-generational audiences can experience Baker's life story. A graduate of HSPVA, Moore got her start at the Ensemble when she was around 8 or 9 years old. She went on to audition for Spellman and the musical theatre at NYU. As one of three black people out of 65 total that NYU accepts, Moore was chosen in 1998 to study at one of the top musical theatre schools in the nation. Moore is joined by a couple of notable alumni that include: Lady Gaga, Angelina Jolie, Morgan Freeman, Sidney Poitier, Anne Hathaway and many more.
So at this time in her life, with 9 plus years of hands-on experience of professional training before even stepping into college, Moore was more than ready to go full on star. After graduating and landing national commercials, her first Broadway role would be that of Chiffon in the 2003 production of "Little Shop of Horrors". Catapulting into the spotlight Moore then goes on to tour with "Flashdance the Musical", and her latest tour, The Bodyguard (2016).
This type of training, practice, and experience was the only thing that could help bring Josephine to life. In the play, Moore plays Josephine (age 15 to 23) with 3 other co-stars. "Josephine Tonight" takes the audience through Josephine's relationship with her mother, her husband, along with the ups and downs with being a black woman in America during the 20's. Known as the first black super star, Josephine Baker proves herself to be a champion. Director and Musical Director/Choreographer Patdro Harris & Chika Kaba Ma'Atunde knew that they needed a strong, diverse lead that could deliver the vocals and dance moves that the Josephine set the world on fire with.
Moore prepared for the role by working out 4 days a week, going over her lines 100 times before rehearsing, taking a tap class, and researching Josephine to give you a colorfully live show that will keep spectators captivated. Houston Style got the change to ask Moore a few fun questions for our readers.
Houston Style Magazine: Favorite actor/actress to start opposite of? DeQuina Moore: Denzel Washington/Viola Davis
HSM: Would you rather dance for Beyoncé or Janet Jackson?
DM: Well I went to school with Beyoncé (HSPVA) and I've met Janet Jackson a couple of times and she is just fantastic so I would have to say a tie because I love them both.
HSM: You have your biopic coming out, who's playing you?
DM: I get a lot of Keke Palmer, Nia Long, and yes I can't think of her name but the girl from girlfriends, Williams's girlfriend.
HSM: If you could marry your celebrity crush, who would that be?
DM: Oh, that's a good one girl. Hmmm. I would have to say, Jesse Williams. Not only is he beautiful, but also he's an activist. I just think it's so sexy that he's an activist. He's unapologetic in his activism and that's so hot.
HSM: Speaking of philanthropy, are there any organizations you have or are a part of?
DM: Yes. I serve on the board of an organization called Bridge the Gap, which is a foundation that helps kids who are having issues at home or just in their personal life thru music.
DeQuina is always working on her music and wants to put out an album eventually as well as own a production company. Follow her on Facebook Twitter and Instagram @DeQuinaMoore
The Ensemble Theatre is celebrating the life of Josephine Baker highlighting her childhood, her talent, and her strength as an activist June 27th-July 28th 2019. You do not want to miss this show! You can grab your tickets here www.ensemblehouston.com.